Bookends, April 26, 2018
| | |
| --- | --- |
| | |
| Click to enlarge the Vesak card | |
| | |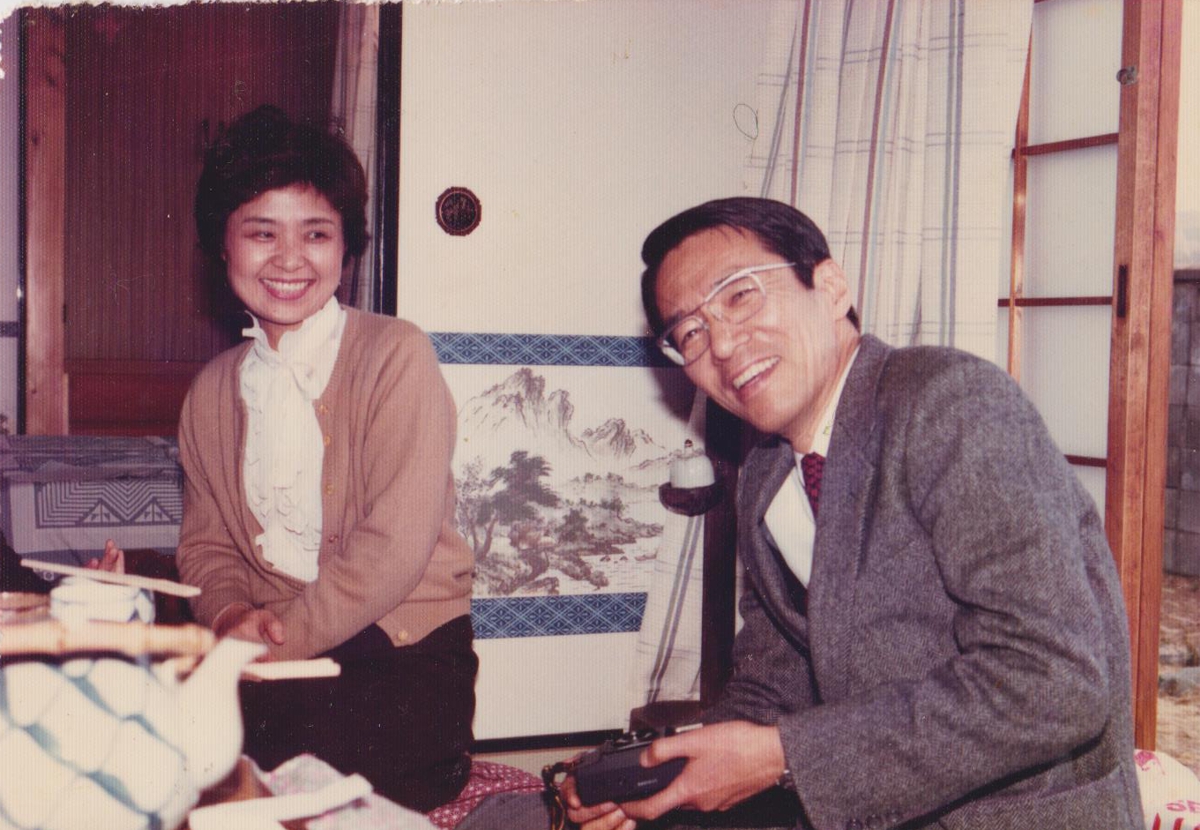 About the middle of March, Nimal moved a box of photos that we had left sitting in the closet in the guest room and discovered that it was infested with ants. Not only had they established a colony (as they have been wont to do in so many other places inside), but they had devoured many of the precious photographs. Lily and Edmond spent one whole day cleaning the photos and replacing them in new boxes.


That night, we began going through the boxes to see how much damage had been done. We were sad to see the holes the little critters had created; they had consumed a lot of faces! But we were also amazed to see how much of our lives was recorded in those photos. Most of them were taken during the 80s and 90s; some were from our years in Michigan, but there were many from much earlier, even going back to our childhood. Visakha's mother had kept many early photos and carefully labeled them as well.

Click any of the old photos to enlargethe view. Click

HERE

to see more of the more old photos.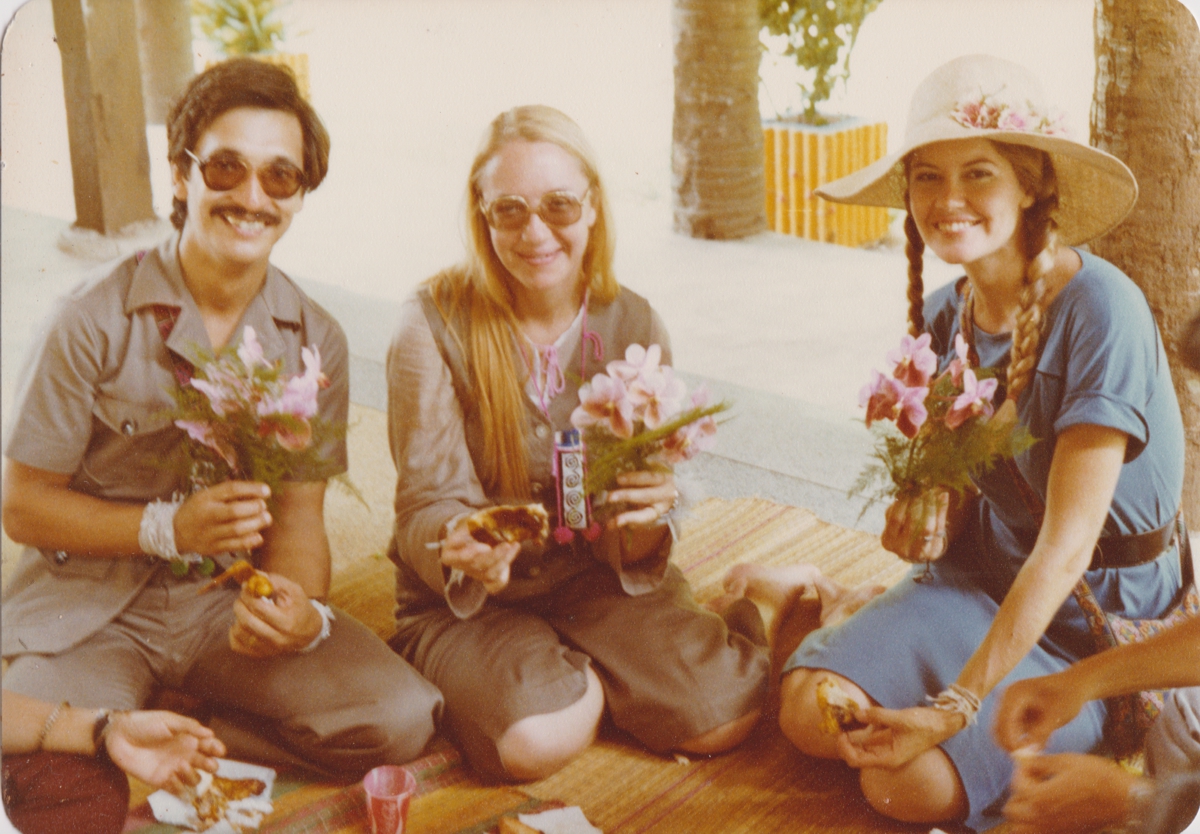 What a pleasure, remembering old friends and events of long ago, and realizing how very fortunate we have always been, having lots of space, knowing good people, being able to share, food, adventures, and causes over the years! Ken began scanning the photos and posted more than 150 on Facebook. These pictures have elicited comments from friends all over the world and brought back many beautiful memories. Thanks, ants (and Nimal!).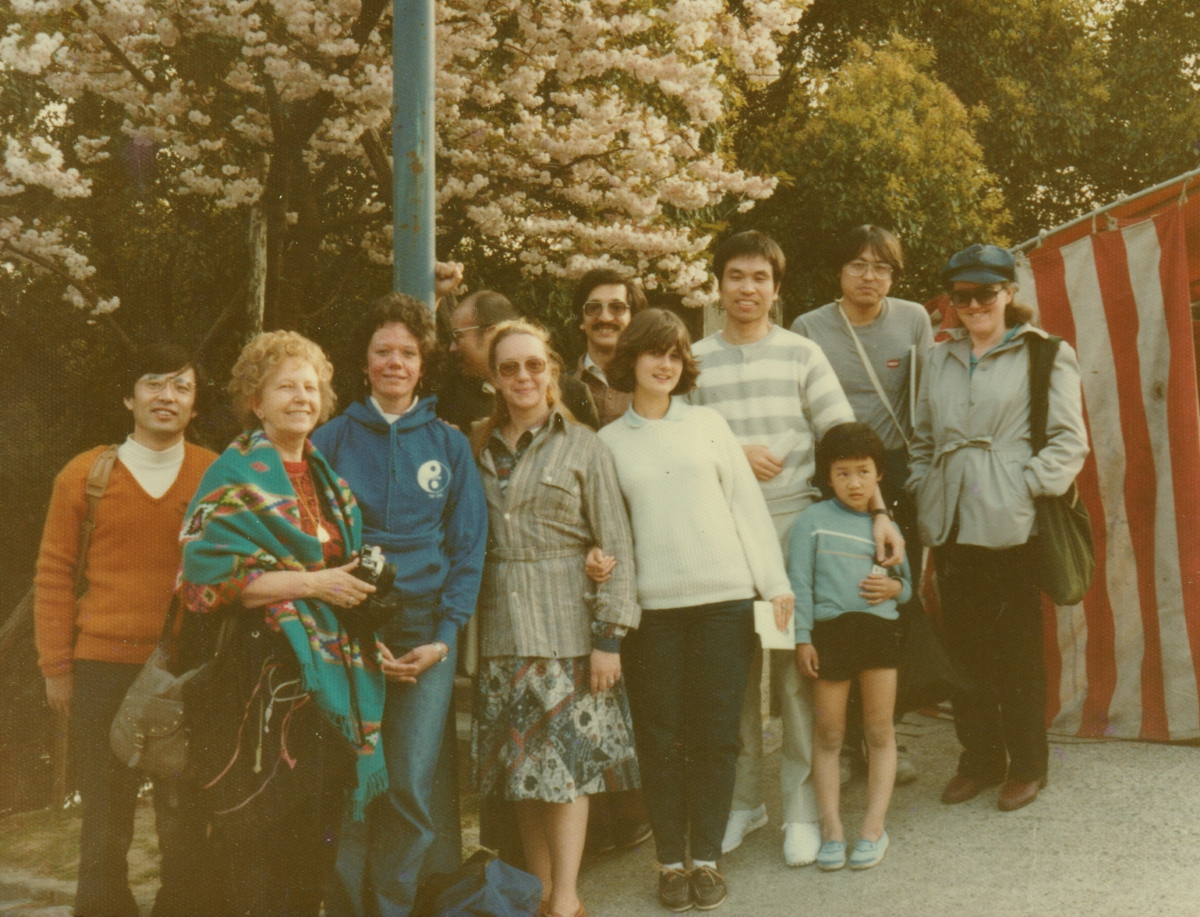 As long as we have been together (43 years!), one of our greatest joys has been offering friendship, support, meals, and hospitality. Not only have we been members of SERVAS for those 43 years, but we have met, hosted, and welcomed, hundreds of people, friends, with many of whom we remain in contact. We know that we are not able to travel as much as we have done in the past, but we hope that we can meet many of you again, so we invite you to come to Kandy.

Generosity, kind words,
doing a good turn for others,
and treating all people alike:
these bonds of sympathy are to the world
what the lynch-pin is to the chariot wheel.

Giving food one gives strength,
giving clothes one gives beauty,
giving lamps one gives sight,
giving transport one gives delight.

Giving shelter one gives all;
but one who instructs in the Dhamma,
the excellent teaching of the Buddha,
such a person gives ambrosia.

| | |
| --- | --- |
| | |
| Click the photo to see more of Jason's photos. | |
| | |
| | |
| --- | --- |
| | |
| Jotiko and Maria, a SERVAS visitor from Ireland | |
| | |
For the twelve years we have been in Sri Lanka, we've hosted many friends who have come this way. Some, like Jotiko, stay with us a bit every year. In February, just after we posted our last report, Jason, whom we had first known in Japan in the 90s and to whom we'd suggested likely connections and positions in Thailand, came to stay awhile . Jason had made a life for himself in Thailand, working with the Burmese students, refugees, and exiles in Chiang Mai as a journalist for the Irrawaddy. He spent two weeks with us, as a respite betwixt his lives in Thailand, Japan, and Canada. This was his second visit to Sri Lanka, so he was not interested in sightseeing, but was content to remain in Kandy, with long walks, rest, and spending time with us. We enjoyed some long talks with him, including ruminations about what had gone wrong with Burma's democracy movement, catching up on mutual friends, events in Kachin and Rakhine, musings about journalism, stories about courageous journalists, sycophants, bigots, the Irrawaddy, racism, and the future of humanity. We are so lucky have droll, reflective, well-traveled, and insightful friends to talk, banter, and laugh with, and Jason's one of the best! He joined us in offering high tea at the Kandy Cancer Home, which we dedicated to dear Eid, his late wife, who had recently succumbed to cancer.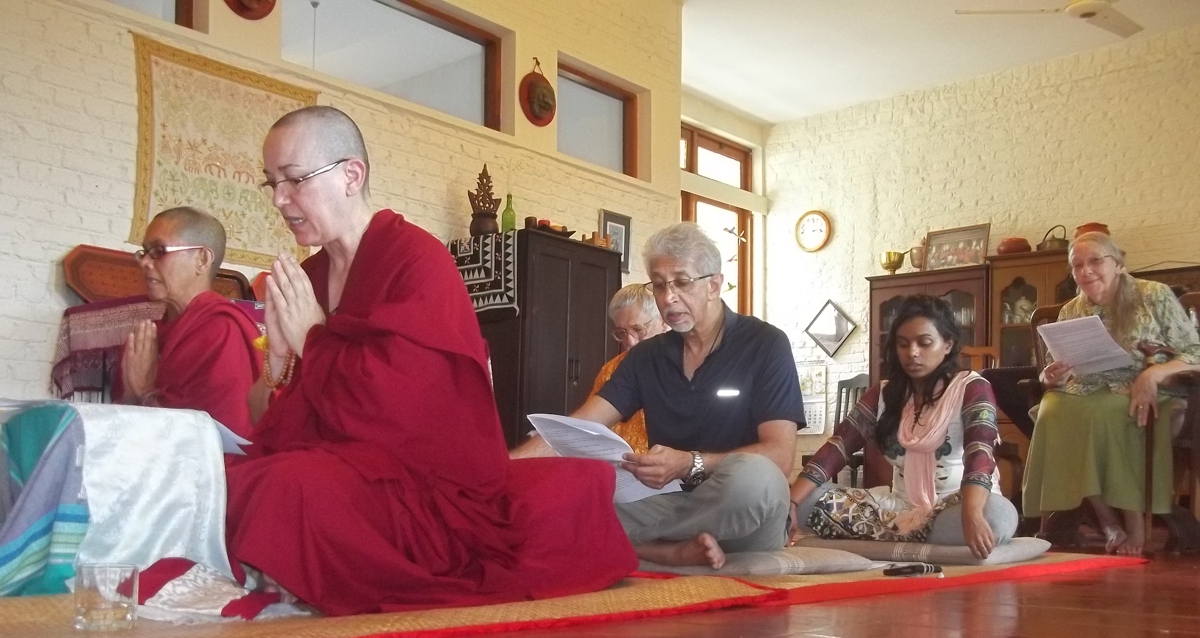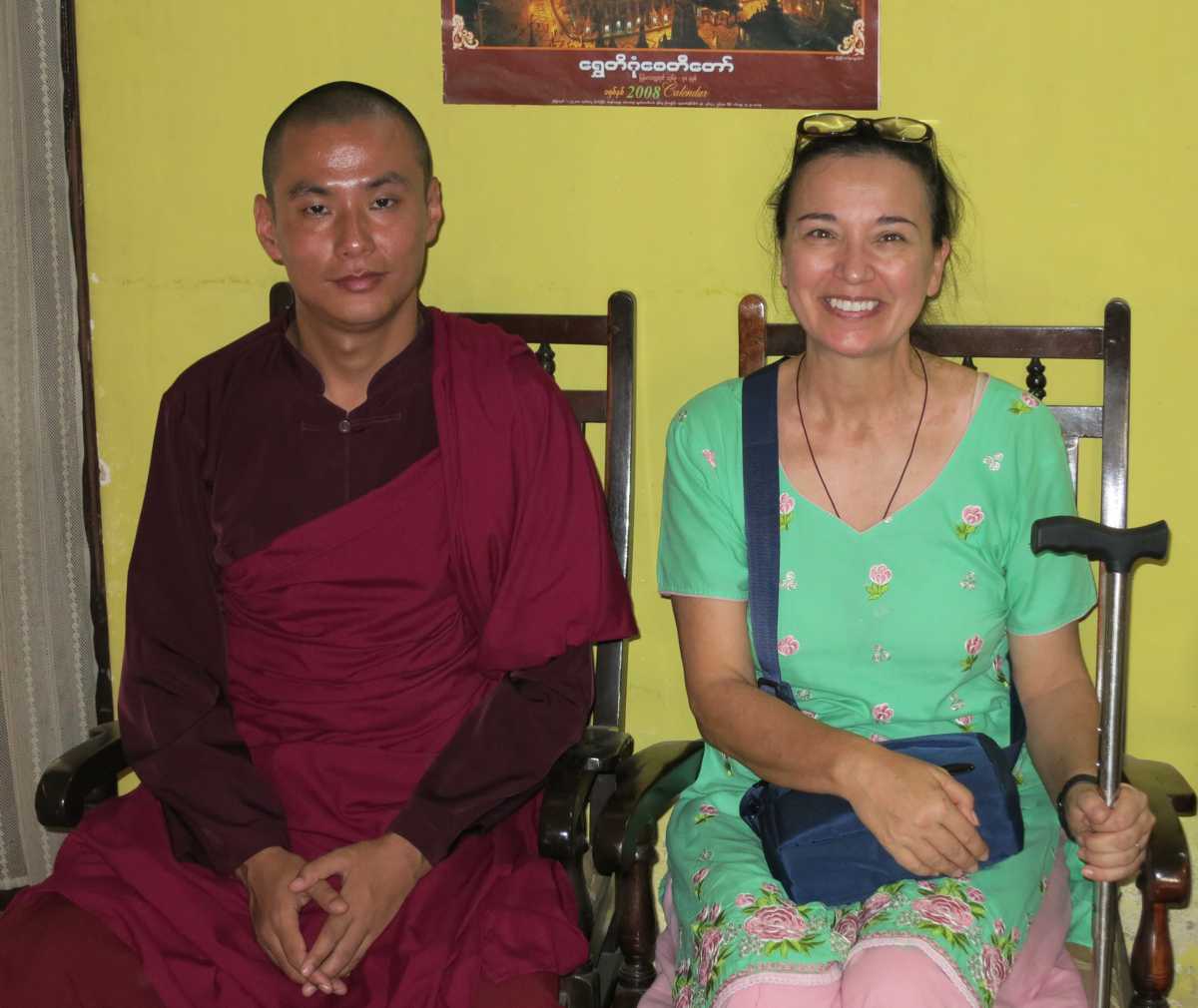 In our last report, we posted this photo of Ven. Tsundue, who had stayed with us for a couple of months last year. We first knew her as Carol in December 2015. Ven. Nirodha Bhikkhuni had met her at the Vajirarama International Meditation Center, brought her to our house and introduced her. We learned that she'd been an ESL teacher in several programs in Asia and, as administrator, had organized a Tibetan Buddhist Center in Mongolia for her teacher, Lama Zopa. At some point, she'd been in a horrific accident in Nepal, which had necessitated months of hospitalization and rehabilitation, including acupuncture in Vietnam. While she was with us, she joined students in the Kandy Intensive in January 2016.

That year, she attended a conference in Malaysia and ordained as a nun under her teacher. She stayed with us again before moving to India to begin studying at the Root Institute in BuddhaGaya. We met her there in January 2017 during our intensive course in Bangalore. During that year, she had to interrupt her studies to return to Canada to care for her elderly, ailing mother. After organizing needed medical tests and treatment and arranging for social services for her mother, Ven. Tsundue wanted to return to India to continue stduying at Root Institute. She again stayed with us while she got her Indian visa in Kandy, with the gracious help of Radha, the Assistant High Commissioner who made an incredible mark for herself during her time in Kandy and is much missed to this day. Radha was delighted to meet Ven. Tsundue because she had, in a previous assignment, served as liaison officer to the Dalai Lama and knew many Tibetan teachers.

Having both Ven. Tsundue and Ven. Lekdron in Kandy at the same time was a great gift. Before meeting them, our only acquaintance with Tibetan Buddhism had been through Shingon-shu in Japan (The founder of Seifu Gakuen and his son, the principal, were both priests of that sect.) and the powerful writing of Eliot Pattison. By getting to know these two nuns we have been able to observe the practice, to admire the rigor, and to reflect on the compassion of Tibetan Buddhism. Lovely! Our home has been much blessed!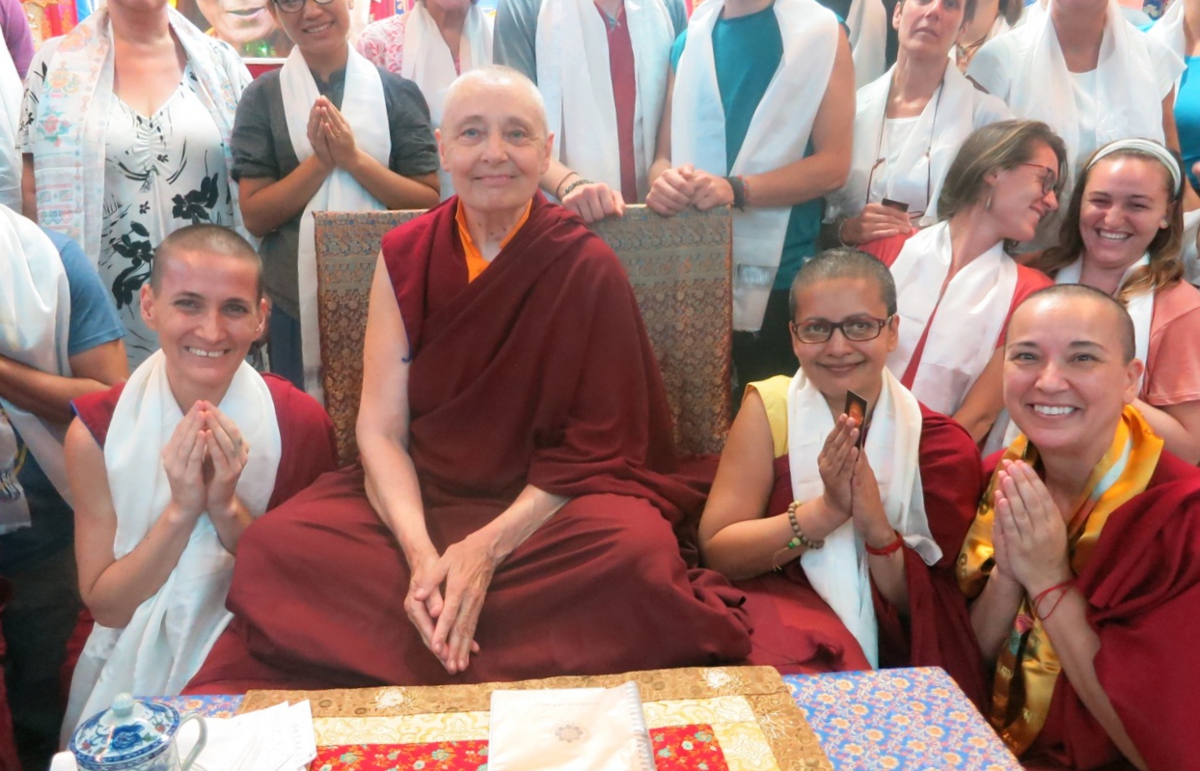 After Ven. Tsundue returned to Buddhagaya, her correspondence indicated that she was not well. One problem was clean drinking water. We arranged with Ven. NandoBatha to have a water filter delivered to her. We also discussed the need for her to have a good physical examination, and she agreed to do that in Kolkata. We left funds to cover that cost as soon as she could take a break from her studies.

In March, we got an alarming message. In the middle of the night, she had had an episode which she felt was either a stroke or a heart attack. A doctor at the hospital in Gaya confirmed that it had, indeed, been a heart attack, but, fortunately, not a cardiac arrest. She reduced her schedule at Root Institute and seemed to be recovering, but she agreed that, in addition to a general physical exam, she would consult a cardiologist in Kolkata. Ven.Nandobatha and Rajiv began making plans, and, as soon as Ven. Tsundue was ready to move, they had Ven. Aggawamsa, the monk in charge of Mahabodhi Parahita Monastery in BuddhaGaya, arrange a flight to Kolkata. From the airport, she went directly to Bodhisukha, where the food is sooooo good and the people soooo caring!

After a couple days of rest at the monastery, she was accompanied to Apollo Hospital by Ven. Ananda and Che. The cardiologist looked over the reports from Gaya, listened to Ven. Tsundue's account and her family history, and determined that it had not been a heart attack (good), but he was very sure that there was a blockage to the heart, which had caused a lack of bloodflow, her blackout, and the persistent weakness and tingling and numbness in her arms and hands. He called it a coronary event.

He could not determine, however, whether the blockage was in the arteries or in the lungs. He sent her for a D-diamer Blood Test, which was done immediately. He also prescribed an angiogram, to be followed, if necessary, by a CT Pulmonary and geography. These tests could both be done the next day, but, because of some risk factors, such as heart attack and allergic reaction, she would have to be admitted to the hospital as an inpatient.

At this point, she discovered that there is a new rule in India: no hospital admission on a tourist visa! The receptionist was adamant that Ven. Tsundue could not be admitted without a Medical Visa. The cardiologist advised her to go to emergency and to get the doctor to sign a waiver that it was a "life threatening" situation. He even wrote out a diagnostics plan with her vitals from the Gaya Hospital emergency. Even with this, the staff wouldn't let her or Ven. Ananda near an emergency room doctor. When they went back again to the cardiologist, he declared, "She needs an angiogram!"

The cardiologist next informed them that he had spoken to the Hospital Superintendent, but again the receptionist refused to allow her to be admitted, insisting that the patient's condition had to be "life threatening."

When we learned of this, we immediately contacted Radha, who replied within minutes advising that it was possible to change a tourist visa to a medical visa and explained the process. Ven. Tsundue followed her instructions but was again rebuffed. Then Ven. Nandobatha took up the case, and, after about one week of filling out applications and negotiating with the authorities, he was able to have her visa converted. The only catch was that the one-month medical visa canceled the six months remaining on her tourist visa.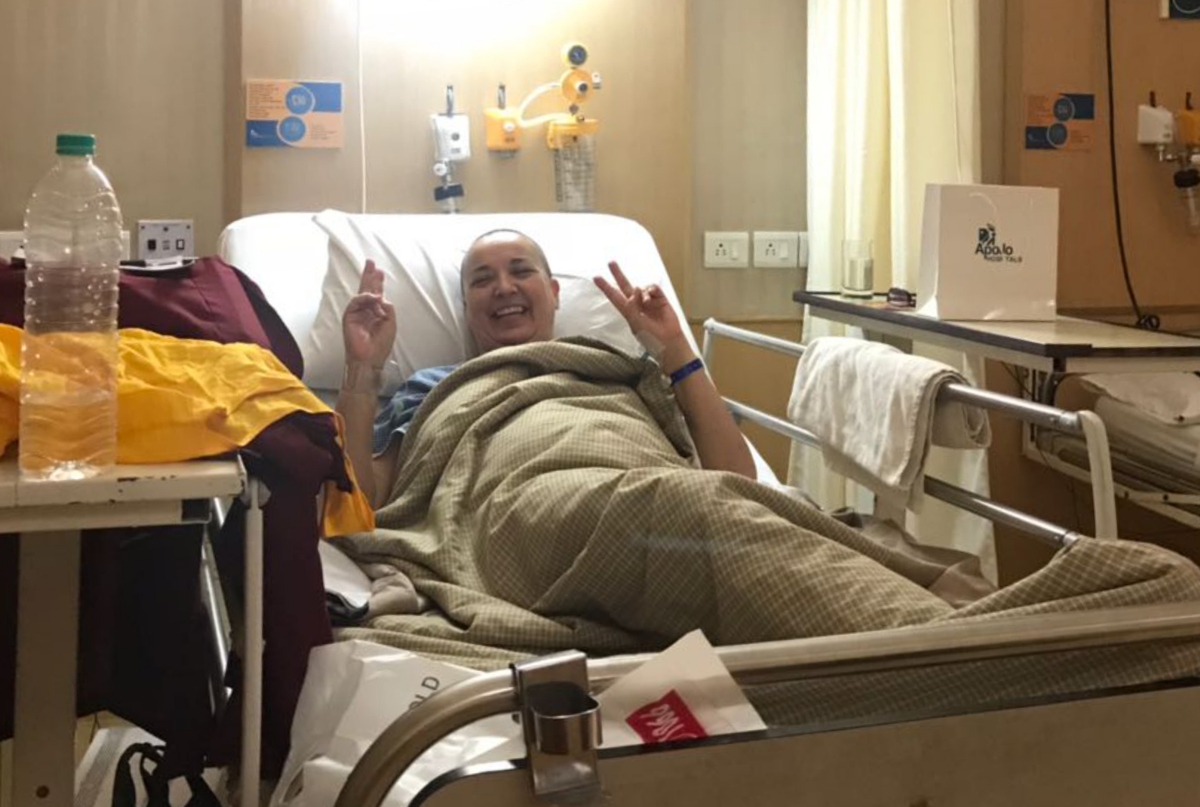 The latest news is that the angiogram was completed, and it appears that the heart is healthy. The cardiologist wants to do a CT Geography on the lungs. This will be an outpatient procedure.

We are relieved to hear this, but the incident has given us the impetus to set up a "Sangha Emergency Medical Fund." This will be an account which we will hold in reserve to defray expenses for monks and nuns, particularly in Sri Lanka, India, and Thailand, who need medical treatment. We have already received several donations to begin the fund. We invite all to join.

Buddhist Relief Mission
Sangha Emergency Medical Fund

All donations are IRS tax-exempt and will be duly receipted.
Offerings to Ven. Amilasiri in honor of the birthday of a donor from Australia, February 25, 2018. (Click each photo to view larger.)
An Urgent Appeal for Assistance
to provide water for elderly monks

Ven. Amilasiri, the abbot of Bodhirukarama in Kurunetgala, has been caring for elderly monks for more than ten years. In spite many obstacles, Ven. Amilasiri has struggled patiently, making sure that the elderly monks, now numbering about 20, receive nourishing food and proper care. He has been repeatedly plagued by a lack of water. In 2016-17 Kurunegala District suffered from the worst drought in decades. Almost the entire crop of rice was destroyed. Buddhist Relief Mission made an urgent appeal and raised enough money to purchase a plot of land in Avissawella, where construction of a new ward for the elderly monks (and eventually a new monastery) has begun. In the meantime, however, Ven. Amilasiri must carry on in Kurunegala. Sadly, the drought has struck again in 2018, and water bills are mounting.


Buddhist Relief Mission is providing as mush assistance as we can, but we cannot by ourselves cover the entire cost of the many bowsers of water. We are asking for support from other donors. All donations, large or small, will be greatly appreciated. Receipts will be promptly sent.


Thank you very much for your help.

In the middle of February, as Tania was leaving after the second day of the second NVC workshop, we agreed that it was time for another "HighTea/Coopoly Party." We looked at the calendar and decided that March 17 was a good date. Since that was St. Patrick's Day, we created an invitation with that theme and sent it to about thirty friends. About seventeen responded positively, and we started making plans.

Then, on March 4, anti-Muslim riots erupted in Digana, near Kandy, and the government imposed a curfew and declared a state of emergency. For several days, we lay low, refraining from going out, except when absolutely necessary. Many shops were closed, and we canceled our class on Thursday. By the middle of the next week, the situation had essentially returned to normal: the curfew was lifted, and the state of emergency was rescinded. We wondered how the tension would affect our party. We sent a message announcing that the party was still scheduled, but only about 10 people actually attended. Nevertheless, it was great fun. We played as partners, so we made up one set of Coopoly, which made for a lively game, and we won! There was, of course, much too much food, so each guest took home a "doggie bag."

Many people expressed their concern about our safety and the well-being of mutual friends after they read about unrest and violence in Kandy. Thank you for caring!

Sri Lanka's Anti-Muslim Violence

Anti-Muslim violence on the island has a long history tied to conceptions of Sinhalese-Buddhist identity.


By Sudha Ramachandran, March 13, 2018


The current wave of violence was reportedly sparked by an incident of road rage involving a Sinhalese truck driver and a group of Muslim men in Kandy district in the central highlands on February 22. The latter assaulted the Sinhalese driver, which resulted in his death at a hospital a few days later. The day after his death, Sinhalese mobs went on a rampage, attacking Muslims, and burning their homes, shops, and vehicles. The violence has since spread to other districts.


Sri Lanka is a multiethnic, multilingual and multireligious country. Sinhalese constitute the majority (74 percent) and are mainly Buddhist; Tamils are the largest minority and are largely Hindu. The island's second largest minority is the Muslim community, which comprises 9 percent of the population. Unlike Sinhalese and Tamils, who draw their identity from their ethnicity, religion determines the identity of Sri Lanka's Muslims.

Our informants were adamant that the trouble-makers were not Kandy people, but were from outside, and that their agenda was political--Sinhala Buddhist nationalism. For months, we had heard the nonsense about clothes "impregnated" with infertility drugs by Muslim garment factories and powerful sterilizing "medicines" in halal foods. Several English newspapers had carried full-page articles declaring that these rumors were ridiculous, but many believed them. Does this remind anyone of the creepy charges against witches in the Middle Ages? One friend expressed her shock when she heard the same absurd rumors being voiced by a group of educated women at a meeting. Hardline Sinhala Buddhists claim Muslims will soon outnumber them "in our own land." It is true that in Sri Lanka the birthrate among Buddhists is lower than among Catholics, Hindus, and Muslims but the reasons are purely cultural and it would take hundreds of years if nothing changed. Furthermore Muslims are hardly to blame for a low Sinhala birthrate! To feed the paranoia, some Sinhala Buddhists claim the Muslim population is as high as 25%, despite well documented statistics that it is under 10%!

The outbreak of violence was the most serious since the trouble in Aluthgama in 2014 and the first we have known of in Kandy. In response to the plethora of vitriolic hate speech (and actual incitement to violence) on Facebook, the government temporarily suspended Facebook, WhatsApp, and other social media, for which they were severely criticized, but which seemed to have prevented the situation from escalating. There was no question that most of the violence came from outside forces, rather than local citizens. The following article, which we found online, views the incident from an interesting perspective. (We have included the article in our lessons on Discrimination, which we explain later.)

How Unarmed Civilians Saved Lives During Anti-Muslim Attacks in Sri Lanka
By Lisa Fuller


On March 4th, Sinhala Buddhist mobs began sweeping through Sri Lanka's Kandy district, hurling petrol bombs at Muslim-owned houses, shops and mosques. The attacks came as a shock, as Sri Lanka has not seen violence on this scale in nearly a decade. The government deployed thousands of security forces, armed with automatic weapons, tear gas and water cannons, but they failed to stop the violence until four days later. By then, mobs had wreaked havoc in a dozen towns and destroyed 465 properties. Yet the death toll was astonishingly low: The mobs ultimately killed just one person.


What accounts for the disparity? Dozens of ordinary civilians and local leaders used a variety of innovative strategies to protect one another and prevent violence from escalating.
The anti-Muslim rhetoric that has been circulating in Sri Lanka for several years can be seen as part of the trend spreading across the globe, which has been given the stamp of approval by the anti-immigrant, white supremacist, male chauvinist Not My President, who is trying to become Emperor of Amerika.

Meanwhile, on Facebook, we had an interesting exchange with a former student, a monk, who had posted some blatantly racist, obnoxious, anti-Rohingya cartoons. In response to our complaint about these cartoons, he quoted Germany's newly inaugurated Interior Minister Horst Seehofer: "Islam does not belong to Germany. Germany is characterized by Christianity. These aspects include shops being closed on Sundays, church holidays and rituals such as Easter, Pentecost and Christmas," and asked, "Isn't this a racist statement?"

The monk seemed to believe that this comment by a right-wing German minister gave Burmese license to hate Muslims, too. Perhaps, he did not notice that Chancellor Merkel strongly contradicted the minister and completely rejected his views. Certainly, those views sound frighteningly similar to the rhetoric of the Nazis about the Jews (6 million or so of whom were killed by the Nazis during WWII). We wonder why anyone would want to believe that an anti-Muslim sentiment in Europe somehow excuses genocide in Burma.

| | |
| --- | --- |
| | |
| Click the puzzle to open the lessons on Stereotypes and Discrimination. | |
| | |
Partly as a response to this rising tide of racism, we are putting together a series of lessons on discrimination, stereotypes, prejudice, and distinguishing fact, opinion, and bias. We have only begun using them with our class of university-student monks and nuns, but we (and the students, we hope) are enjoying them enormously, with good discussions and good humor. We offer them here for others to use as they see fit.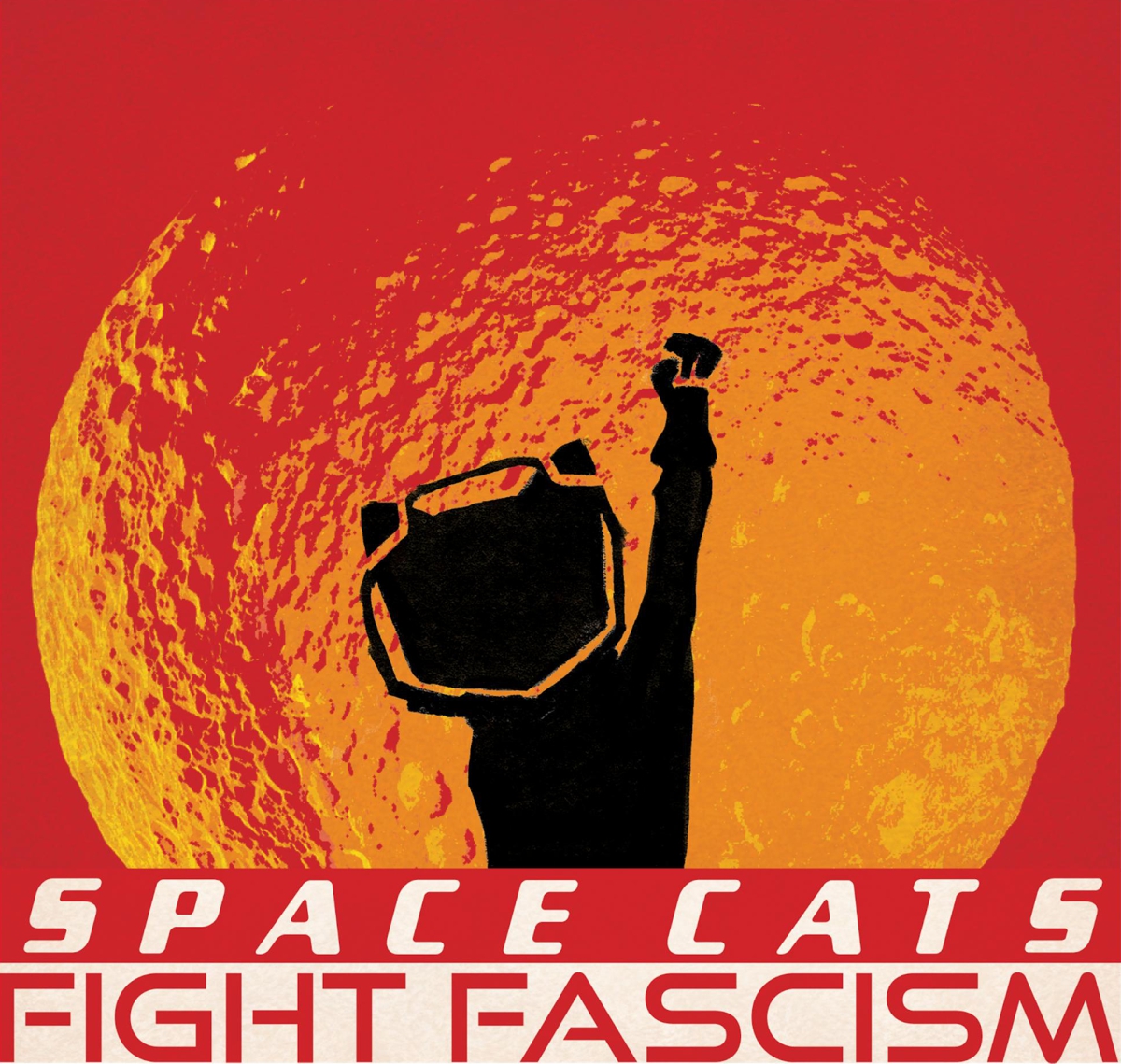 From TESA, the makers of COOPOLY, there is a new game coming out: "Spacecats Fight Fascism." We received a BETA version for review, played it with Ewen and Julia, and enjoyed it.

It is not as much "fun" as COOPOLY, which incorporates "Drawing," "Unspoken" (a variation on the ancient game "Password"), and "Charades," but the new game encourages cooperation and requires strategy planning in a way that COOPOLY does not. We hope that, when it is released, it will be successful. We recommend it.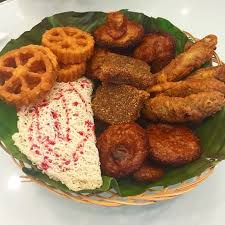 The middle of April marks the beginning of the New Year in many cultures. In Southeast Asia, it's regarded as the "Water Festival," and celebrants splash or sprinkle each other with water. At the Thai temple in Michigan, we were impressed to see devotees not only bathe the Buddhist images, but also respectfully wash the hands of their elders. In Kolkata, almost every shop bestows on each customer a box of sweets. Sri Lanka boasts a list of traditional sweets cooked up by almost every household during the Avurudu, New Year's Season. It's the custom to share, and several of our neighbors brought us platefuls of these sweets. We wanted to reciprocate, but we are not traditional, so we offered each household a block of our beloved "Buddhist Relief Mission Chocolate Oatmeal Squares."


The other focus of New Year's in Sri Lanka is fireworks. As the holiday approaches, hundreds of shops sprout along the roadside. Unfortunately, it is not sparklers, which we so nostalgically remember from our childhood, not the magnificent hanabi (flower-fire) displays in Japan which elicit choruses of "Oooh!" and "Aaah!" Here, in Sri Lanka, the fireworks of choice are firecrackers and cherry bombs, which produce no more than noise and unsettling concussionss. New Year's is horribly noisy. We first visited Sri Lanka in 1979 and left with many positive impressions. That visit, however, coincided with the New Year's celebration, and one really nasty incident has stuck in our minds. A young man lit a fire cracker and laughingly tossed it under the sarong of a stranger just walking by. Why would someone do that?


All the noise upset our poor cats, owned and stray dogs, the birds, the frazzled monkeys, and just about everybody but the butterflies, who evidently don't hear. Why, in a country that has endured wars recently, do people want to make a din that sounds like a battlezone? After New Year's was officially over, we were shocked out of deep sleep by bombs right outside the window. They must have been set off in a nearby yard, but Visakha woke up believing we were being shelled by the Vietnamese across the Mekong River, as happened years ago in Chaing Khan. That morning, we had instinctively crawled under the bed, only to realize, with a bit of embarrassment, that we were on the second floor of the hotel.

Silence and Meditation
By Ewen Arnold

1 Difficult to find quiet

In today's world it is so difficult to find peace and quiet. There is so much noise inside and outside us. So I'm talking here about both inner and outer silence, silence in the environment and silence in our minds. Why is there so much noise? One reason is that we are afraid of what we might find.

I taught meditation for a while in a monastery in the hills in Sri Lanka. It was a beautifully quiet and peaceful place until they put a stack of loudspeakers on top of the meditation hall!! This was so that the lay people who cleaned the monastery could listen to pirith chanting at top volume while they were sweeping.

Pascal said that all of humanity's problems stem from them being unable to sit quietly in a room alone. I personally think this is an overstatement but he's essentially correct. It's really interesting that solitary confinement and sending people to Coventry are regarded as punishments!

One thing you will find in meditation is that the more you meditate, the more you can hear the silence that lies behind and beneath all sounds, the more silent you become, and the more you seek out silent places. Why do you think so many meditation places are on top of mountains?

Silence in the mind and silence in the environment tend to reinforce each other, which is one reason why spending time in nature is so good for us.



2 Silence is the main antidote to distraction

Silence reveals what is already in our hearts and minds. Usually we can distract ourselves from this knowledge. Often we distract ourselves from what's happening, from the silence, by thinking. In silence, in meditation, we get to think our own thoughts, to feel our own feelings. And we usually don't want to go there. In silence, we get to hear who we really think we are, and most of us don't want to deal with that.

And silence is closely related to solitude. We also deal with this by distracting ourselves, through alcohol, overwork, TV, anything but this!! Jumping into relationships can be a distraction from being alone with ourselves. But loneliness can be a motivation to connect. Don't run away from it by distraction.

Silence and boredom are sometimes allies, but, if we watch boredom carefully, it often reveals a lot to us about things we aren't dealing with like fear and anger. Creativity comes out of boredom much more than distraction.



3 Silence opens our senses

Silence opens our senses and focuses our attention inward. John Cage has a silent piece of music called "4 minutes 33 seconds," which is completely silent. The audience get to hear, to be aware of, to bring the same kind of attention they would to a concert, to everything that's happening in and around them, not just sounds but what they see, how they feel, and their thoughts about it all.



4 Silence teaches us how to listen

Silence teaches us how to listen, not just to our words, our speech, but to our thoughts as well. In silence you can listen to what our lives, our bodies may be, are trying to tell us. You can also listen to other people more attentively. Doctors talk about their being many signals that a heart attack is imminent. This could be really crucial.



5 Silence helps us become more positive

Most of the inner chatter in our minds is negative. When we fall silent we stop believing these negative thoughts, and can replace them with more positive ones, or just (more powerfully) stop believing them so they wither away in time.



6 Silence is itself pleasurable

Walking or sitting in nature is both pleasurable and therapeutic. It is a way of getting out of the way and letting the body and mind heal themselves. 20% of our energy is used by the brain. When our mind is silent, or when we just make peace with the parts of our body that hurt, they hurt less. Compulsively thinking about our illnesses doesn't help us heal!



7 Silence improves our relationships

Silence calms people down. Silence after someone has shouted at you gives them the opportunity to reflect on what they have just said. It can help reduce friction and anger.



8 Silence leads to wisdom

The silence at Nilambe, as I'm sure you'll find out, is a gentle warm silence that allows you to tune into your natural wisdom. Quiet spaces allow us to sit with the turmoil of our lives long enough to see what needs to be done. It allows the natural wisdom inside to come forth. It allows us to get things into perspective. We become wise by listening in silence to ourselves and our lives. Thinking is useful but it is one step removed from reality and far too many of us live only in our heads.

Ralph Waldo Emerson once wrote, "There are voices which we hear only in solitude, but they grow faint and inaudible as we enter society."

In the Christian tradition they say "God speaks in silence, silence is God's first language." I think what they mean here is that wisdom comes when we are silent!



Conclusion

Silence simply is. There is nothing artificial or engineered about it. It's an acquired taste like dark chocolate. When you are used to filling every waking moment with doing, being still and silent can reveal that our lives are so much vaster and more interesting than our mind thinks!! We may notice, for example, that everything appears out of silence and returns there, our thoughts, sounds, ourselves even!!
Sometime in January, as we were leaving Subodharama after class, an elderly woman with a gap-toothed smile approached our three-wheeler and began telling us her life story. We didn't understand the details, but she'd been married, had a daughter who was educated but working overseas. She had no place to live and seemed to be waiting to talk with Ven. Dhammawasa about some sort of accommodation. Although her English was limited, she appeared friendly and soon began to ask what we were doing at the monastery. Other questions followed: how long we had been in Sri Lanka and where did we live. She was very skillful at asking questions, and we told her that we had lived in Kandy for twelve years and that we had a house on Riverdale Road in Anniwatte. After a few minutes of conversation, we said that we hoped she could find someplace to live and excused ourselves to go shopping for vegetables and flowers.

About one month later, Lily came into the office and informed us that there was a woman at the gate, who seemed to be saying we had offered her a place to stay. She had a bag of belongings and appeared ready to move in. We suggested Lily invite her into the "waiting room" near the gate and give her something to eat. Lily retorted that if we did that, she'd never leave. (Lily did offer her some food, which she threw on the ground with disapproval.)

Of course, we recognized her and told Lily that we'd never invited her to visit, let alone move in. Lily talked to her for a few minutes and reported that she said she was very ill and needed an operation for a prolapsed uterus and bladder. To go to the hospital, she had to have a sheet and pillow case, which we were happy to supply. Visakha also gave her 600 rupees for transportation. Then she said that, before her surgery, she needed to build up her strength, and she asked for some Sustagen. Ashoka was waiting to take us shopping, so we gave him 5000 rupees (no change!) and asked him to take her to Nihals (a nearby supermarket) and buy the nutritional supplement for her.

At Nihals, Ashoka asked her to wait and rushed into the store. He had enough for only two cans of Sustagen, so he paid for them and pocketed the balance to return to us. He hadn't realized it, but the old woman had followed him into the supermarket and had immediately filled up a cart with items, expecting him to buy everything for her. From another checkout line, when she saw him put the change in his pocket, she started shouting that he was robbing her and demanded that he pay for the stuff she'd put in her cart, totally almost 10,000 rupees! While she was making a scene, Ashoka handed her the Sustagen and bolted, leaving the manager to deal with her. Everyone at Nihals knows him, of course, and he was mortified by her carryings on. He returned to our house to take us shopping but suggested that we take a different route, in case she was still at Nihals!

When we returned from running our errands, about two hours later, there she was, back standing in front of our gate. Lily opened the gate for the three-wheeler, but made it clear that she was not to enter. The old lady insisted that she wanted to talk to us. Visakha listened to her complaints for a few minutes, but told her that Ashoka had done exactly what we had asked him to do and pointed out that she had her Sustagen (for which we got no thanks, of course). Since she was not creating a scene, we simply ignored her and hoped that she would eventually give up and go away. What else could we do?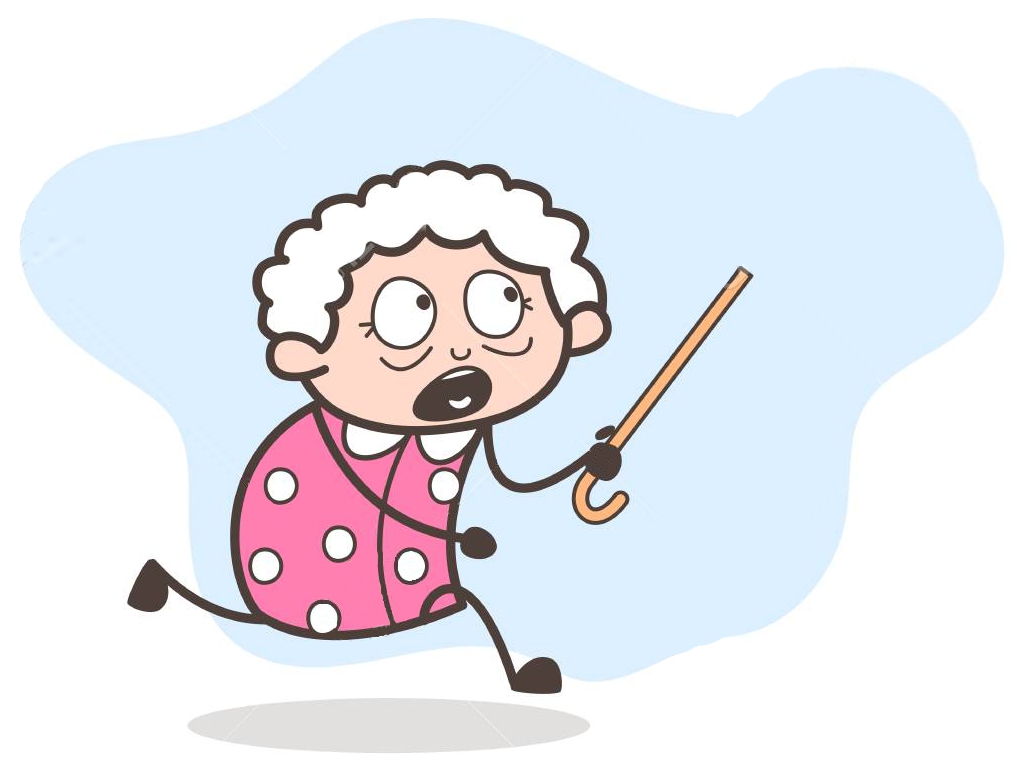 At about five o'clock, Lily was ready to return home, but the woman was still outside the gate. It would be dangerous for her to stay there all night, for wild pigs frequently come and dig around the flowers and bushes in our little cul de sac. As Lily was leaving, she had an idea. She opened the gate just wide enough to get out, then closed it, picked up the woman's bag, and started walking toward the road. The woman followed her, protesting loudly, without bothering to use the walking stick that she had prominently displayed all day. Lily picked up the pace, and the woman did the same. When they reached the turning, Lily began walking even faster, and the woman increased her speed, too. In spite of great pain in her knees, Lily began trotting, but the woman kept close behind, shouting that Lily was "stealing her bag." So much for her being at death's door! They continued running until they came to a junction where a man was walking his dog. He asked what the problem was, and Lily quickly explained, despite being quite out of breath. The man took the bag from Lily and agreed to help. As Lily walked away, she heard him call a three-wheeler and tell the driver to take the woman to the main road and to leave her at a bus stand. He paid the driver and helped the woman into the vehicle.

We half expected that she would find her way back, but, so far, she hasn't. For his part, Asoka has instructed all the three-wheeler drivers in this area not to bring that old woman to our place again.

When we related this incident to Ven. Upatissa, he told us of an experience he had had in Colombo. One evening, while he was returning by train, a feeble-looking old man carrying a shopping bag got on and sat down near him. Shortly after the train started moving, the man suddenly fell to the floor and began jerking in what looked like a seizure. He was foaming at the mouth, and everyone was alarmed. As he fell, he dropped his bag, and rice scattered across the floor. Several passengers began scooping up the rice and putting it back in his bag. Others waited until the seizure was over and helped back to his seat. Many, including Ven. Upatissa, pressed money into his hand. When the train stopped at the next station, he carefully disembarked.

A few days later, Ven. Upatissa was relating this incident to a friend, who immediately replied, "Oh, so you met him, too! That man is famous in Colombo. He does that regularly on the train." We wondered whether it would be possible to get that old man and the old woman in Kandy together. They could make a good team!

Click on the photo to visit the Kandy Cancer Home Facebook page.
Speaking of Ven. Upatissa, he has accompanied us several times to the Kandy Cancer Home and was very impressed. Having long been involved with hospices and being a trained counselor, he asked Mohan, the Director, about the possibility of doing more, and it was decided that he visit the Center once a month to lead meditation. On the appointed Sunday, he catches an early train and comes to our house for lunch. About noon, Ashoka takes him to the Cancer Home in Hantana, where he gives a short talk, translated by a young woman he met there. After meditation, he also visits the wards, comforts the patients, and ties threads on the wrists of those who wish a blessing. At the conclusion of the program, Ashoka takes him to the train station, and he is able to reach Ja-Ela before dark, after a day well-spent. Sadhu! Sadhu!! Sadhu!!!

The Power of Judgment
by Thanissaro Bhikkhu

When the Buddha told Ananda that the entirety of the practice lies in having an admirable friend, he wasn't saying something warm and reassuring about the compassion of others. He was pointing out three uncomfortable truths–about delusion and trust–that call for clear powers of judgment.


The first truth is that you can't really trust yourself to see through your delusion on your own. When you're deluded, you don't know you're deluded. You need some trustworthy outside help to point it out to you. This is why, when the Buddha advised the Kalamas to know for themselves, one of the things he told them to know for themselves was how wise people would judge their behavior. When he advised his son, Rahula, to examine his own actions as he would his face in a mirror, he said that, if Rahula saw that his actions had caused any harm, he should talk it over with a knowledgeable friend on the path. That way he could learn how to be open with others–and himself–about his mistakes, and, at the same time, tap into the knowledge that his friend had gained. He wouldn't have to keep reinventing the dharma wheel on his own.


So, if you really want to become skillful in your thoughts, words, and deeds, you need a trustworthy friend or teacher to point out your blind spots. And, because those spots are blindest around your unskillful habits, the primary duty of a trustworthy friend is to point out your faults–for only when you see your faults, can you correct them; only when you correct them, are you benefiting from your friend's compassion in pointing them out.

Erica, with whom we worked in Ban Vinai and Phanat Nikhom, is suffering from a brain tumor and has entered a hospice in California. Our mutual friend, Laurie, has spent a lot of time helping her. Our thoughts are with Erica.
On March 29, we had our Subodharama class at the house and served lunch to the students. Click the photo to see more photos of the event.
Ven Lekdron invited the residents of the Women's Development Centre to the Royal Botanical Gardens in Peradeniya. After the gardens, Ven. Marcel and Gabriela, both from Romania, and Dilini came for lunch. Click the photo to see more photos of their visit..
The three volumes have just been published individually by Pariyatti in the United States. They are available from the website and in bookstores. (Click each volume)

SERVAS Guests

Kai and Merete from Denmark.

Regine from Belgium

Maria from Ireland

Deborah from Canada

Click each photo to view larger.

Our altar from an interesting angle.
Plastic News redux with the Subodharama class. Click the phot of view it larger Click HERE to see photos of the workshop at the American Corner Kandy for Earth Day.
Click the photo of one of our first strawberries to see more photos of plants in our garden.

Teaching the novices at Vajirarama to fold origami cranes

A baby polecat which Lily found one morning in the garden. Poor baby had strayed from Mommy!

Shehan, Ushan, and Tinura with their portraits of Leo