Fifteen, Going on Sixteen, December 23, 2015


Click the photo to see more photos of the dana at Bodhirukarama.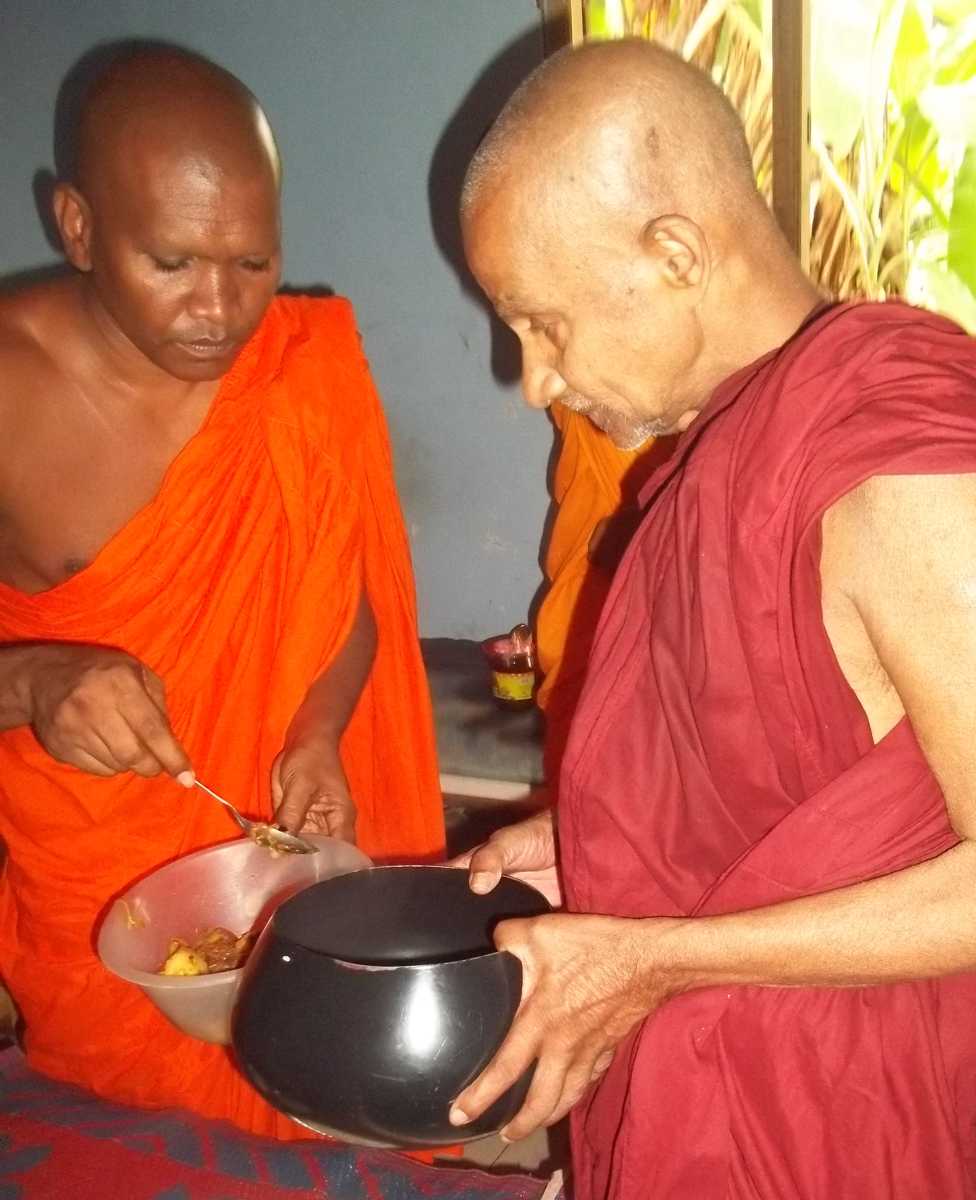 In response to our appeal for relief for the lightning strike at Bodhirukarama, as we reported previously, we received much more in donations than was needed for the water pump, refrigerator, and TV. As soon as we returned from Bangkok, we began purchasing the goods for Bodhirukarama with the funds remaining. We began in a textile shop in Kandy which was having a big sale--handloom sheets, pillow cases, bath towels, and hand towels. In the market, Lily bought potatoes, onions, garlic, pumpkins, dahl, tea, sugar, milk powder, biscuits, chillie powder, salt, and rice. Finally, we collected, two five-liter bottles of sunflower oil, laundry soap, and toiletries. On December 10, early in the morning, we loaded all of that into the van (The van was nearly loaded!), along with the food we had prepared--Lily's egg curry, eggplant, and dahl with snakegourd, our seashell pasta (enriched with chocolate!), and fruit juice, and set out for Kurunegala. Just before we got to the monastery, we stopped at our favorite bakery and picked up several pound cakes and one beautiful chocolate cake (for the novices) in honor of Ven. Bhikkhu Bodhi's birthday (as well as Human Rights Day). As we offered the dana to the resident monks, the elderly monks, and the novices, we shared merit with him and with all of our donors.


It is always a joy to see the model deportment of the novices at Bodhirukarama. The younger ones sit quietly and patiently, while the older ones assist in setting out the dishes and preparing the plates for the elderly monks. Some of them are still children, but we never see the squirming and giggling, common in some temples. Visakha had her photo taken with Ven. Padmasiri, the novice who, several years ago, underwent life-saving surgery to repair a hole in his heart, a procedure toward which many of our donors contributed. He is doing fine and is now in Grade 1 in school.


With the remainder of the funds we received, we were able to assist Ven. Amilasiri by paying for ten sheets for the roof of the new building and two cremations, and a general donation.



Click
the
image
to
purchase
on our
website.

In the U.S., the book is cheaper and delivery is faster at Amazon.
Outside Sri Lanka, we have not sold many copies of Buddhist Crossword Puzzles, but this request really pleased us:

| | |
| --- | --- |
| "Please send this book as soon as possible. I'm adding this to my Christmas gifts to my uncle. He is 94 years old and has been a devout Buddhist for more than 40 years. He LOVES crossword puzzles! Thank you very much!" | |
| | |
We had to smile. What a lucky man to have such a sweet and thoughtful niece!


Two other requests, these from former students, also pleased us.


1. A monk in China wrote: "My Dhamma brother and I are planning to open a Basic Buddhist English Study Group for Laypeople in our temple after Chinese Lunar New Year. We want to arrange two one-year courses. The first year will be The Life of the Buddha, which will includes Buddhist vocabulary, the relation between the Buddha and his disciples, and Jataka Stories. In the second year we will cover the basic teachings of the Buddha, for instance, the Four Noble Truths and the Noble Eightfold Path and more Jataka Stories. Each class will be two hours. Could you help us to select 20-30 stories, Jataka and other, which can each be finished in 2 hours?" How gratifying!


Click the photo to vist the Verkay Foundation website.
2. A monk in Burma asked us to edit a letter he was writing to support his teacher, Ven. U Nayaka, who has been nominated for the Global Teacher Award 2016 of Verkay Foundation in Education. We had read about this monk and had posted the article on Facebook. We had not known that any of our students had studied with him. We were pleased and honored to help him. We sincerely hope he wins and can expand his wonderful work with poor students!




Jotiko, staying now and joining the pilgrimage

SERVAS
Thomas and Anita from Germany Anita and Birgita from Sweden

Ven. Nirodha
and
Carol

The other day, there were twelve birds hovering around our new bird bath and feeder!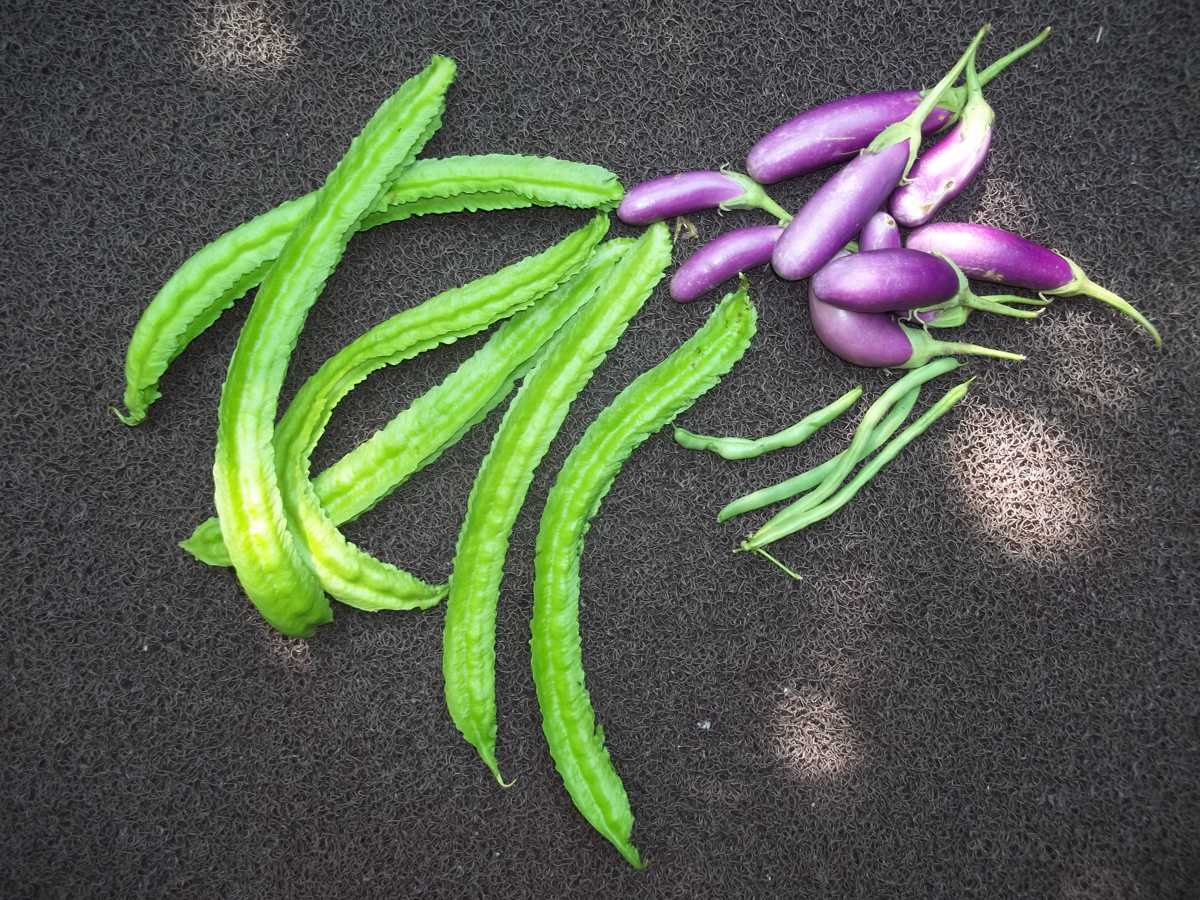 Almost every morning, breakfast includes a plate of sauteed greens from our garden. This is a recent harvest of other vegetables. Happy!


The Seventh Kandy Intensive Buddhist English Course begins very soon. We are excited (and busy). Quite a few donations have already come in. There are still a few days open for lunch donations, and we need quite a bit more for materials and transportation.


Seventh Kandy Intensive Buddhist English Course
January 11-30, 2016

Buddhist Relief Mission is preparing for this three-week course at Sudhammarama in Kandy. Many of the old instructors will be returning, and a few new ones have come on board. Classes will be held Monday-Friday, with special activities on the weekends. Lunch packets will be prepared every classday by Lily and her team.
The students will be foreign monks and nuns studying at universities in Sri Lanka., as well as Sri Lankan monks from local temples. All friends are invited to take part in this meritorious work by donating toward lunches, material, and transportation.


Any amount is welcome.


Lunch for one day costs about US$100.


All donations to Buddhist Relief Mission are IRS deductible.
The pilgrimage to India is going to be smaller than expected, but it is sure to be meanigful and rewarding. Deadline for applications has been extended to January 10.


Pilgrimage to the Buddhist Sites in India and Nepal, February 4-25, 2016

Organized by
Buddhist Relief Mission
and
Doorway India

Vegetarian meals

Comfortable facilities

Leisurely pace

Time for meditation

Lumbini, BuddhaGaya, Sarnath, Kushinara, and much, much more!
21 days, by train and A/C coach.
Similar to the Pilgrimage in 2012