Come What May, June 10, 2015


TWO QUESTIONS

| | | |
| --- | --- | --- |
| What two aspects of society in Sri Lanka are very positive, but in the United States are dysfunctional? | | |
| | | |

| | | | |
| --- | --- | --- | --- |
| | Can you understand the meaning of this logo? | | |
| | | | |

Answers below
We can't say that the move to the new house was accomplished without a hitch, but, with a lot of help from our friends, we got ourselves, Nezumi, and our stuff from Dodanwela to Anniwatte. The last water bill had again been more than 20,000 rupees. Somewhere in that old place, there is a massive leak--a disaster waiting to happen. Sometimes at night, when all else was quiet, we heard, or perhaps felt, water running. It was, frankly, a relief to leave.


One day, some of the monks and nuns from our English class came, systematically removed books from the shelves in the old library, tied them in bundles, and labeled them. Another day, they removed all the Buddhas from the altar and carefully packed them in suitcases. As soon as the bookcases were in place in the new library, they put all the books back in their proper places. Then, after using the compasses in their smart phones and thoroughly discussing the matter, they set up the altar in the great room and arranged all the images. We were truly grateful for this wonderful work. They accomplished it in one day, whereas it would have taken us at least a week. The next day, Julia and Mike found the best wall hangings and arranged them around the altar. The result is splendid!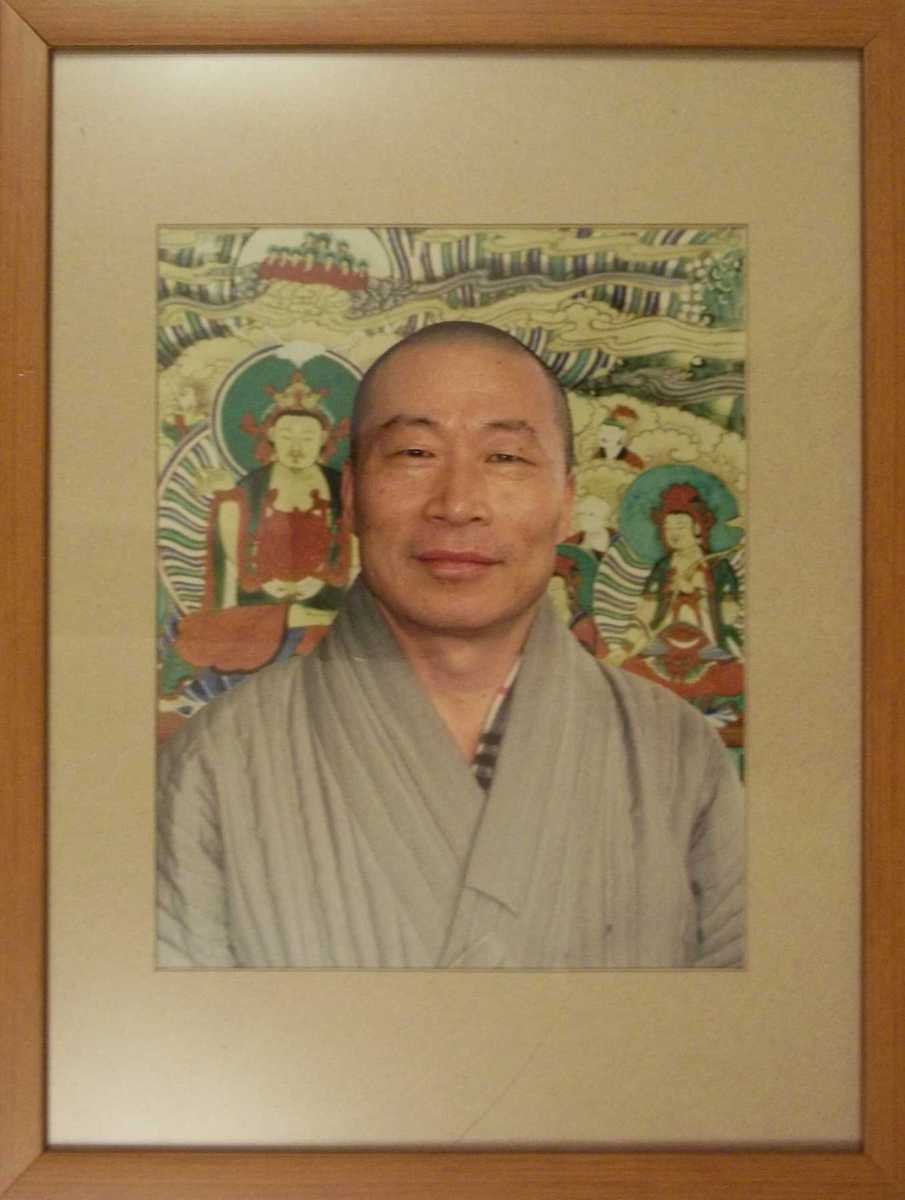 The move officially took place May first. Sanath, the old landlord, was not arriving from Australia, however, until the eighth. We left the old house, but there was no one to accept the keys nor to acknowledge our having honorably vacated the premises. We were determined not to let that bother us. Ven. Gong Pa, our teacher and Dhamma friend from Pusan since 1983, was arriving on the fifth, and taking care of him and enjoying his visit were our primary concerns. We had first met Ven. Gong Pa while we were working in the Philippine Refugee Processing Center. He had gone to Manila to learn about Christianity, because, at that time, there were a plethora of aggressive Christian churches trying to convert South Koreans, and he wanted to know what this religion was all about. The late Ven. Abhinyana, the British monk resident at the Vietnamese temple in the camp, introduced him to us. Since that time, we had visited Ven. Gong Pa several times in Pusan and traveled with him to important Korean temples, and he had stayed with us in Japan. This would be his first visit to Sri Lanka, and we were excited about it!



| | |
| --- | --- |
| | |
| Click the image to see more photos of the new house. | |
| | |
The new house has spectacular views and a lofty demeanor. The landlord agreed to carry out all repairs so that everything in the house would be in order. That included repairing and refinishing the parquet floor upstairs. That was a big job. Many squares had come out, and it was quite unsightly. At first, it seemed new pieces would have to be purchased, but, when the agent discovered that new pieces were simply not available, the workmen carefully reassembled all the old ones, like a jigsaw puzzle. The result is beautiful. The floor in the three rooms now looks very much like the one that Ken polished in the French chateau back in 1965. With the help of Lily, Raja, Nimal, and Ashoka the house looks and feels very good. Lily makes sure that everyone is taken care of and happy; Raja watches expenses like a hawk; Nimal keeps the grounds in tip-top shape; and Ashoka is always on call whenever we need something.



When we first looked at the house, we found several pieces of furniture that had been much neglected and even badly damaged--quite unusable, in fact. The landlord indicated that they should be kept, so we took them to Jayasinghe Furniture, the oldest such shop in Kandy. We learned that repairing the pieces would be rather expensive, but the landlord wants them retained because they are, indeed, valuable antiques. Thus, he has agreed to pay to have them restored, and we will be happy to use them.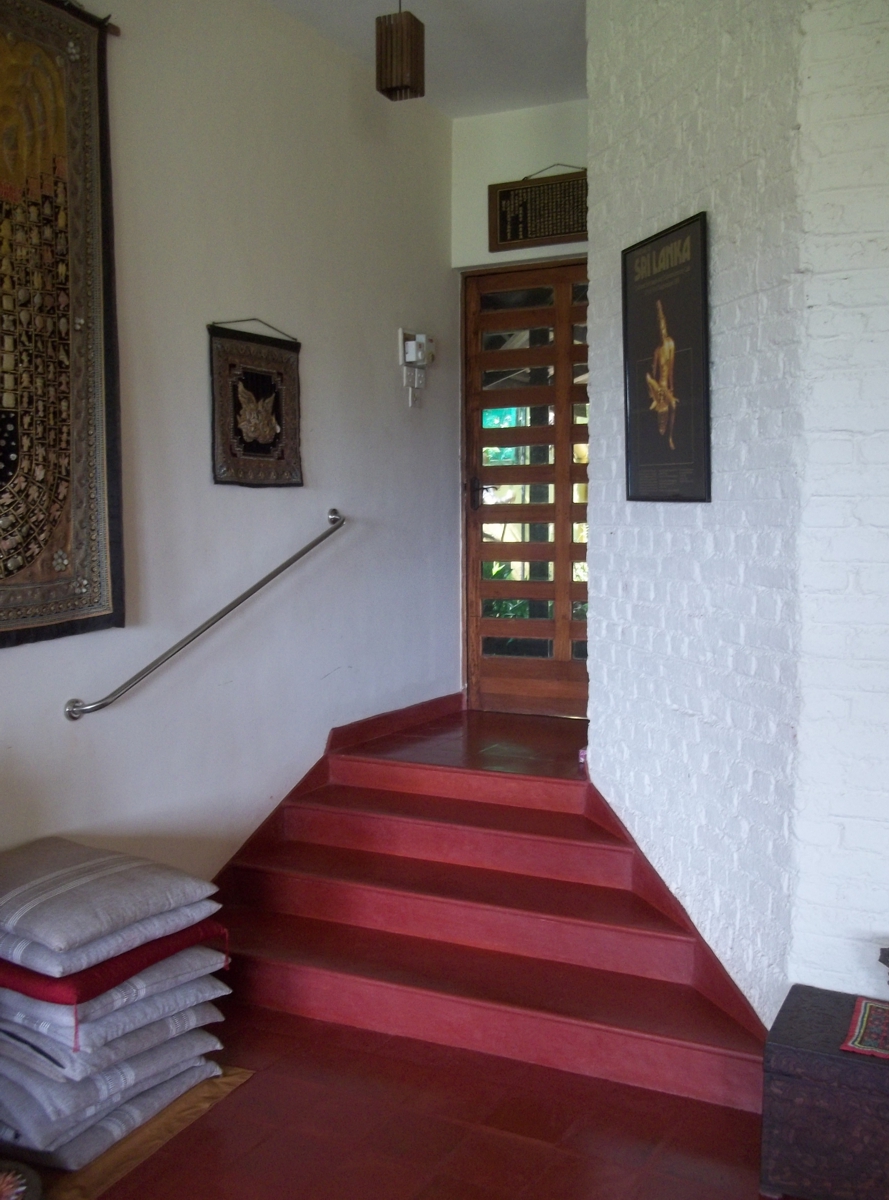 From the receipts we submitted to the landlord, one had us truly baffled. It stated that we had purchased a "5-foot fence." Finally, we realized that it was for Visakha's handrail, for the steps going down into the great room.


| | |
| --- | --- |
| | |
| Click the image to see more photos of the dana. | |
| | |
We picked Ven. Gong Pa up at the airport on Tuesday, and, on Thursday, we held a dana, the first in the new house, sharing merit with those killed in the Nepal earthquakes and the survivors; the mentor of our friend Adrian, Graeme Lyall, who died in Australia on Vesak Day; and close friends of Mike's, a family in Michigan recently struck by terrible tragedy. Ven. Upatissa, Sister Nirodha, and many students--Burmese, Korean, and Bhutanese--joined us, and we had chanting from the three traditions.



The next day, Ven Gong Pa went, in the morning, with Lily to the Dalada Maligawa to pay his respects to the tooth relic enshrined there and, in the afternoon, with students to worship the Peshwar relics, brought to Sri Lanka from Mandalay. He was delighted to have the rare opportunity of viewing relics twice in one day!


| | |
| --- | --- |
| | |
| Click the image to see more photos of Alu Vihara | |
| | |
Sunday Morning, May 10, we--Ven. Gong Pa, Ven. Hyo Eun, Visakha, and Ken--left Kandy for our tour of the Cultural Triangle, with Tissa driving. Our first stop was Alu Vihara. Historically, this is an important site, being the place where the Tipitaka was first written down. In the museum, one can see samples of the palm leaves used as the pages of the suttas, the styli used for incising the characters, and the powder which made the incisions visible. One can also see dioramas of Buddhagosa and other monks writing in the cave. These exhibits and the gruesome depictions of the tortures in hell are interesting, but the place as a whole is rather static. Considering the importance of that first transcription of the Buddha's teaching and the fact that the temple, being on the road to the north, is not at all out of the way, you feel obliged to stop there, but the overall impression is uninspiring. It's a lot of stairs to climb without much to see.


| | |
| --- | --- |
| | |
| Click the image to see more photos of Aukana | |
| | |
Our next stop was Aukana. This massive statue of the standing Buddha is definitely "out of the way." Once you leave the highway at Kekirawa, you continue on very small roads, mostly without signposts, on the edge of a huge tank. In rainy season, it seems, some of the roads become impassable, and the route becomes even longer. We have always advised visitors to arrive at the temple before noon in order to view the statue, which faces east, in full sun. We followed our own advice, and, in spite of the detours, arrived just before twelve o'clock. Unfortunately, some irresponsible authorities are constructing a monstrous corrugated metal roof over the statue, and, in the future, it will never see the sun, except in the very early morning. Presently, the magnificent image is surrounded by scaffolding. For its size alone it is impressive, but the beauty of the 12-meter (40-foot) statue, with the blue sky behind, in its perfectly natural setting, is marred for posterity.


| | |
| --- | --- |
| | |
| Click the image to see photos of the Sasseruva Image | |
| | |
Ken remembered that, about ten years ago, we had read in the daily newspaper about another standing Buddha statue, mush less visited, near Aukana. We found it on the map, asked about it, and learned that it was only sixteen kilometers away and not difficult to reach. Some say that this image, called Sasseruva, was carved by the student of the sculptor who created Aukana. The route, passing alternately between rice fields and through forests, seemed much longer than sixteen kilometers. In one field we saw a mustering of storks and in another an ostentation of peacocks. The temple, in its secluded setting, was perfectly peaceful and quiet, in spite of the presence of a bus in the parking lot, which left shortly after we arrived. A young man politely informed us that the image was at the top of he hill, eighty steps up by the stone staircase. Halfway up, there were several buildings and a beautiful Bodhi tree. This Bodhi tree was unusual in that its base was constructed of natural brick, rather than a white-washed wall and a golden fence. A sign indicated that there was a reclining Buddha image in one of the halls, but all of them were locked. We called Visakha, who had remained in the temple below, and asked whether she could find someone with a key. Then we climbed the second forty steps to the top. There we found the beautiful image we had come to see. Rather than free-standing, as in the case of Aukana, this image is more haut-relief, emerging from the stone in the hillside. It is also much smaller--14 feet (4.26 meters). It is, nevertheless, just as impressive. According to one of our guidebooks, archaeologists believe that both of these images represent Dipankara Buddha, rather than Gautama Buddha. They seem to have been created under the influence of Mahayana Buddhism.


| | |
| --- | --- |
| | |
| Click the image to see more photos of Sasseruva | |
| | |
When the key came, we found the statues and the paintings in the small buildings indeed lovely. One unusual feature of the reclining Buddha is that it was built so as to permit circumambulation. The only other image like this we know of is the one in the MahaParinibbana Temple in Kushinara. We were guided through these buildings by the chief monk of the temple. It seems that he is alone there, and it was his father who had built the hall where Visakha waited. We were happy that we had taken the trouble to visit this often-neglected temple, particularly in that it would be the only new site for us on the tour.



After a LONG ride, we arrived in Anuradhapura and found a restaurant for "dunch." A monk at an ancient, but still functioning, temple in the Sacred City directed us to an inexpensive, comfortable Buddhist resthouse where we settled in for the night. Tissa had been driving since six o'clock in the morning, and the rain precluded any more sightseeing that day.


Click each image to view larger
The next morning, after breakfast, we made a brief stop at the Mirisweti Stupa. This is a graceful pagoda built by King Dutugamini in commemoration of his victory in battle. As we were circumambulating the pagoda, Ken judged the position of the sun, kept his eye on the peak of the pagoda, and sought a particular spot. Having found it, he called the two sunims and told them to stand in exactly that spot and to look at the peak. They were surprised to see the crystal sparkle in the sunlight. They had had no idea that there was such a crystal in the umbrella of almost every important pagoda.


| | |
| --- | --- |
| | |
| Click the image to see more photos of Issurumuniya | |
| | |
Next, we visited the rock temple, Isurumuniya. The main attraction there is the famous carving, "The Lovers," which has been removed from the face of the rock and preserved in the museum. There are also, however, elephants playing in the water and a remarkable carving of a man with a horse. The view of the lotus ponds from the cetiya at the top of the rock is stunning.


Click each image to view larger
The most important site in Anuradhapura is the Bodhi Tree. Ven. Sanghamitta, the daughter of King Ashoka, brought this tree as a sapling from BuddhaGaya, and it was planted at this spot in 249 B.C.E. Thus, it is the oldest living tree in the world with a known human-planting date. Furthermore, after King Ashoka's wife, out of jealousy, destroyed the Bodhi Tree in BuddhaGaya, a sapling from Anuradhapura was taken to revive the tree at the original site. Every important Bodhi Tree in Sri Lanka and many throughout the world have come from this tree in Anuradhapura. According to the Mahavamsa, the Buddha visited Sri Lanka three times, but, as one pays reverence to and circumambulates this sacred tree, it is not necessary to believe those legends to feel the presence of the Teacher.


| | |
| --- | --- |
| | |
| Click the image to see more photos of the MahaThupa and Thuparama | |
| | |
From the Bodhi Tree, it is a leisurely walk past the ruins of the Brazen Palace to MahaThupa. Tissa picked us up there, and we drove to Thuparama. This graceful pagoda is the oldest in Anuradhapura. The remaining columns around the dome attest that it once had a roof and was what is called a Vatatage. To the side of this stupa, among the ruins of the ancient monastery, there are two lovely guardian stones still in situ at the entrance to one of the buildings. Not wanting to miss them, Ken wandered in that direction, found them, and called the sunims. They were very pleased. A small group of Chinese women tourists followed us to see what we had found. Did they understand what they were seeing?

Ven. Gong Pa likes to have his lunch around noon, so we took a break and returned to Mango Mango, where we had eaten the day before. This is a large, clean restaurant, obviously built to cater to Chinese tourists. The menu includes Mongolian hotpot and chopsuey. There are large round tables, each with a lazy susan; the food is quite good; and the service, excellent. (We returned there again for breakfast the next morning.)



Our afternoon schedule was determined by the weather. We hoped to see Ashokarama before it started raining . This is the ruins of a monastery and nunnery to the north of Anuradhapura. We happened to notice it in one of the guidebooks when we toured the Cultural Triangle with Ven. Pannasila in 2005-6.


28. THE ASOKARAMAYA


Continuing along the road north from the Twin Ponds crossroad, the second dirt road branching off to the right by a small shop, leads to a small house where the track divides after about 1/4 mile (400 m.). You then walk on a path through two fields of paddy; you may see the flash of a bright blue kingfisher, or a bee-eater in its delicate colours of green, gold and brown. Beyond the paddy lies the Asokarama monastery. The image of the Buddha seated in the 'vitarka mudra' position, indicating teaching is a powerful yet serene image, that ranks amongst the best sculptures in Sri Lanka. At the entrance to the image-house is a moonstone, which is the same date as the figure, about the 10th century A.D. (A Guide to Anuradhapura, Central Cultural Fund, Ministry of Cultural affairs and National Heritage, Colombo, Sri Lanka, 2004)
Click each image to view larger
From the main road, there is a sign pointing the way through the rice fields. Our van could go part of the way, but was stopped by a stream which had overflowed the path. Ven. Gong Pa, Ven. Hyo Eun, and Ken descended from the vehicle and proceeded on foot. The water was above the knees, but, by lifting their pant legs, they could cross without getting their clothes wet. After a few more minutes, the statue, facing the opposite direction, came into view, but, by the time they reached the image house, it had begun to pour. They took shelter under the small roof and admired the statue. Unlike most images, this one is not polished. The surface is rough, revealing the coarseness of the stone, which is dolomite, a sedimentary carbonate rock, apparently resistant to erosion, which explains why this image remains in pristine condition after more than 1000 years of exposure. While waiting for the rain to stop (which didn't happen), they noticed the delicate carving of lines of the robe on the back. It is truly a remarkable image. By the time they got back to the van, they were thoroughly soaked and decided that sightseeing was finished. Too bad not to have visited Jetavana and Abhayagiri, the two huge stupas, but you can't see everything. It had already been a full and wonderful day!



The program for the next day was a visit to the sites in Mihintale, the site where Ven. Mahinda, King Ashoka's son, in 247 B.C.E., met King Devanampiya Tissa and introduced the Buddha's teaching to Sri Lanka. Visakha and Ven. Hyo Eun got down at the Rest House where they spent the morning studying for Sunim's IELTS test. It was a treat for Visakha to be able to talk with her at length, using the practice questions of the exam. Visakha learned a lot about Korea, and Ven. Hyo Eun expressed herself with increasing fluency and confidence.


| | |
| --- | --- |
| | |
| Click the image to see more photos of the bhikkhu hospital | |
| | |
Ken and Ven. Gong Pa went first to the ancient bhikkhu hospital, which Sunim found to be one on the most impressive features of the entire tour. The concept of establishing such a hospital in the ninth century or possibly even earlier was astonishing. The complex, with preparation rooms, herbal baths, and private rooms, was neatly arranged. A "guide" attached himself to them and insisted on explaining everything (true or not).


| | |
| --- | --- |
| | |
| Click the image to see more photos of the Kanthaka Stupa | |
| | |
Next, the guide led the way to the Kanthaka Stupa. This was fortunate, for, though Ken had been to Mihintale several times, he had viewed this stupa only from the distance. It truly deserves a visit, not only for the stupa itself, of which only bricks remain, but for the more than sixty caves nearby. They were able to see only a few of the caves, but they are extremely impressive, each with its carefully carved drip-ledge. Another remarkable feature of this stupa is the "meditation staircase" leading up the hill. Each step is a perfectly carved square slab, all exactly the same size. These are arranged so that every one of the one hundred steps is exactly the same height. One can easily climb the staircase with eyes closed, or at darkest night, as the monks must have done in ancient times.


| | |
| --- | --- |
| | |
| Click the image to see more photos | |
| | |
The staircase down from the stupa ends near the Lion Bath, which is at the foot of the steps leading to the main complex of Mihintale. They paid the guide his honorarium and continued on their own. Upon arriving at the top, they were invited by a monk into the relic chamber which, surprisingly, Ken had never before entered. Here is enshrined the Buddha relic which was discovered in the small stupa next to the MahaSeya Stupa on the peak of the hill. Beside the ornate gold and jewel stupa is the simple stone reliquary which originally contained the sacred relic.


| | |
| --- | --- |
| | |
| Click the image to see more photos of the MahaSeya Stupa | |
| | |
Unfortunately, the shrine room attached to the MahaSeya Stupa was locked, and they were unable to view the massive reclining Buddha image and the poignant diorama of Ven. Ananda weeping at the passing away of the teacher. While they were resting, however, three musicians arrived with a tray of food. Ken hoped that they were going to open the shrine and offer the food to the Buddha, but they simply placed the tray of the ledge around the stupa, performed their puja, and descended. Only slightly disappointed, Ken and Ven. Gong Pa followed them.


| | |
| --- | --- |
| | |
| Click the image to see more photos of Mahinda's Cave | |
| | |
Retracing their steps past the relic chamber, Ken and Ven. Gong Pa followed the rocky path down the hill to Mahinda's Cave. This secluded site is remarkable for its serenity. The cave itself, with its carved and polished bed, is closed for protection by a gilded railing, but one can sit in front of the cave and imagine how peaceful it would have been--a perfect place for solitude!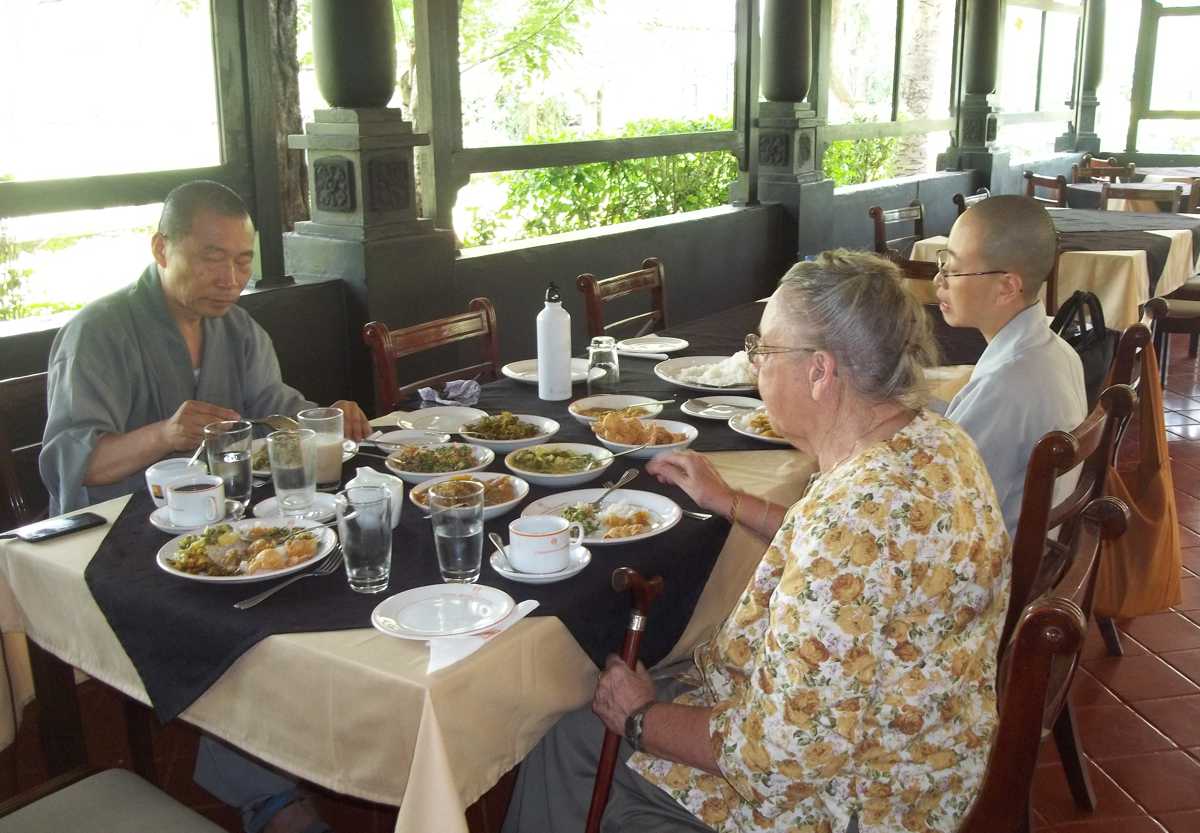 The Mihintale Rest House is the loveliest of the CHC establishments we have patronised. The dining terraces with their delicately carved bannisters have not been enclosed for air-conditioning, and the openness is refreshing. The food and service are also first-class. Ice coffee is not on the menu, but the waiter was very willing to provide us with coffee, unheated milk, and several glasses of ice. The result was delicious, and Ven. Gong Pa appreciated the initiative.


| | |
| --- | --- |
| | |
| Click the image to see more photos of the elephants | |
| | |
The ride from Mihintale to Polonnaruva is LONG, but it passes through the Minneriya Natural Preserve, and we encountered two wild elephants. The first was grazing on the grass by the roadside. We took photos, but, when someone began to open the van door to get a better shot, the elephant started toward us. Tissa drove away at once and later explained that tourists have been feeding wild elephants, sometimes even getting out of the vehicle to do so, hence the elephant's reaction. Might it have been angry at not getting anything? Not a good idea to stay around to find out! The second elephant, a small, old female covered in mud, ignored us completely. She was contentedly nibbling some of the hundreds of overripe watermelons someone had dumped in the ditch.



We easily found the guest house in Giritale where we had stayed before, but we were the only guests that night, and it felt like the rooms had been vacant for a very long time. As we were retiring, Tissa informed us that his van had developed a serious problem and that he would not be able to continue with us. He had already telephoned a friend in Kandy, and that friend would arrive before seven the next morning to provide for the remainder of the tour. The new driver and van arrived exactly as promised, and, after breakfast, we headed north for Medirigiriya.


The Vatatage at Madirigiriya (sic) and its associated buildings, are together one of the most beautiful examples of the architecture of ancient Sri Lanka, and the whole ruin, set in a natural reserve, is one of the most enchanting places that the visitor will find in the island. (A Guide to Polonnaruva, Central Cultural Fund, Ministry of Cultural Affairs, Sri Lanka, 1982)
| | |
| --- | --- |
| | |
| Click the image to see more photos of Medirigiriya | |
| | |
This was our third visit to Medirigiriya, but, even though out of the way, it is always a pleasure. It takes only about one and a half hours to appreciate all of the ruins at Medirigiriya. Our driver picked us up, and we set out for Polonnaruva itself. Along the way, we called the hotel at which we had made reservations for lunch, and the manager instructed our driver to take a shortcut, which he did. Unfortunately, not only was that highway under construction and very rough, but at one point there was water over the roadway. The driver hesitated, but some men standing nearby urged him to go forward, and he decided to try. In the middle of the stream, the engine died, and we had to be pushed out. We all vacated the vehicle and waited in a vacant thatch-roof stand at the side of the road. When a three-wheeler stopped to help, our driver took it in search of a service station. About a half-hour later, he and several other men returned, fiddled with the engine, replaced some parts, and got it running. None the worse for wear, we continued with no further mishaps. We gave up, however, on the first hotel and went directly to the Polonnaruva Rest House on the lake, where Visakha and Ken had stayed for a full week back in 1979, when a room cost only a few dollars, rather than $100, as it does now. Lunch was lovely. We had a table right on the lake, the same as we had had those many years before, but the dining room windows have all been glassed, so the feeling is truly "indoors." We remembered sitting there one evening and watching a man cast his net over the water. Somewhere we still have that photo!


| | |
| --- | --- |
| | |
| Click the image to see more photos of Gal Vihara | |
| | |
The ruins of Polonnaruva are very spread out. Not everything is important, but there are a few places which one must see. The first is Gal Vihara, so we went there first. The statue of the reclining Buddha carved in the living rock is without a doubt the most beautiful image in Sri Lanka. It is a shame that the four images have been covered by a hideous corrugated metal roof, but they are, together, so magnificent that it is possible to ignore that ugliness and to appreciate the beauty and serenity created so many hundreds of years ago.


| | |
| --- | --- |
| | |
| Click the image to see more photos of the Lotus Bath and the Tivanka Image House | |
| | |
From there we drove north, stopping to see the graceful Lotus Bath. At the tip of the complex is the Tivanka Image House, with its immense but graceful headless image in the "three-bend" pose. The interior walls show the remnants of once-beautiful paintings of Jatakas and scenes from the life of the Buddha. The exterior walls are covered with stucco carvings of temple buildings and devas. Unfortunately, the building has been covered with scaffolding for at least the last fifteen years. One can see that some of the stucco-work has been restored, so that, someday, it may again be beautiful, but the unobstructed view, even though of damaged work, was more impressive thirty-five years ago.


| | |
| --- | --- |
| | |
| Click the image to see more photos of Alahana Parivena | |
| | |
Returning south, we stopped to visit the Alahana Parivena, a monastery built in the twelfth century by Parakramabahu, the greatest king of Polonnaruva. This complex includes the Kiri Vehera, the best preserved stupa in Polonnaruva and the Lankatillaka, a beautiful image house, similar to the Tivanka.


| | |
| --- | --- |
| | |
| Click the image to see more photos of the Quadrangle | |
| | |
The centerpiece of Polonnaruva is the Terrace of the Tooth Relic, sometimes called the Quadrangle, containing the Vatatage, the Atatage and the Hatatage (both temples enshrining the Tooth Relic at different times), and various other structures. Having seen the Vatatage at Medirigiriya that morning, it was natural to compare the two. The one in Polonnaruva is certainly ornate--the carving on the four staircases and around the base is lovely--but the feeling is very different. The Vatatage in Medirigiriya, with its single staircase and simple lines, feels so much lighter. It seems to rise up and to float in the air, whereas the one in Polonnaruva is firmly rooted in the earth.


Our last stop was the Citadel. This complex contains the palace and council chamber of King Nissankamalla, Parakramabahu's son-in-law, who died in 1196. The ruins of these buildings are impressive, but there is nothing Buddhist about them. The main reason we stopped there was to purchase several wooden puzzles. Few know that that is the only place in Sri Lanka where one can find puzzles whose 26 pieces are arranged alphabetically and in which each piece is a stylized image of the animal represented by that letter. Upon alighting from the van, Ken was immediately approached by a vendor displaying the puzzle. Ken told him he wanted four puzzles and named a price. The vendor agreed and ran off to find three more copies. While Ven. Gong Pa was refreshing himself with coconut juice, another vendor inveigled Ken to help him out by buying another puzzle. Then, on the way back to the van, a third vendor laid out such a sob story that Ken agreed to buy four more puzzles at an even lower price than all the others. With nine puzzles, we need never go back to Polonnaruva!


An aside: after returning to Kandy, we asked Sister Nirodha Bhikkhuni if we could send a puzzle to her grandchildren in the Channel Islands. The Sri Lankan postal service did its duty, and she just reported that they were "over the moon" with the gift.


The next morning we left not too early, for our only schedule that day, our last stop before returning to Kandy, was Dambulla. Again, Visakha and Ven. Hyo Eun were dropped off at the Rest House to study, and Ven. Gong Pa and Ken proceeded to the Golden Temple. They purchased tickets and climbed up the rock to the caves. Ken tried to count the steps going up and surmised that the climb was equivalent to a 40-50 story building. No wonder they were a bit tired when they'd reached the top.


| | |
| --- | --- |
| | |
| Click the image to see more photos of Dambulla | |
| | |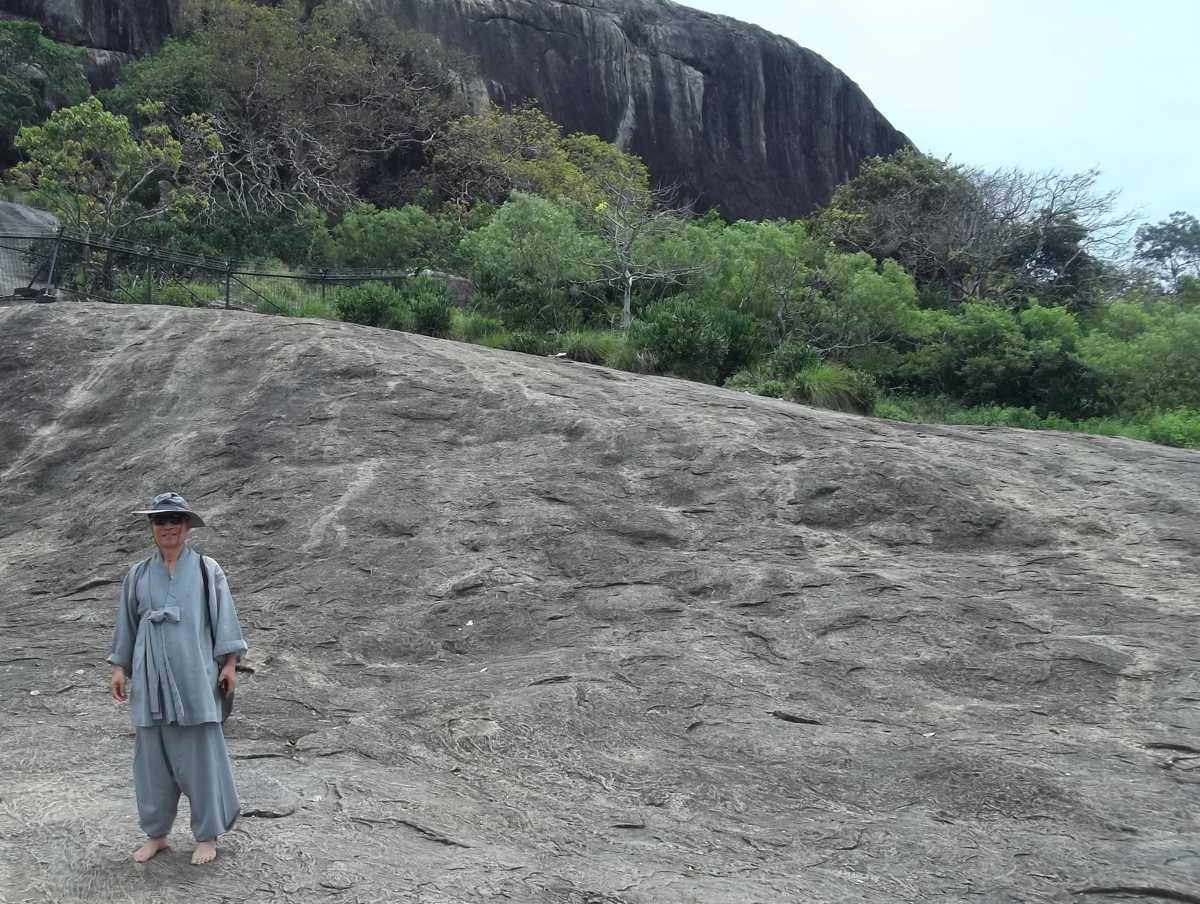 The paintings in the caves are truly magnificent, and Ven. Gong Pa was very impressed. They studied the paintings thoroughly, trying to identify each Jataka or incident from the life of the Buddha. Ken discovered a few scenes he had never noticed before, and he tried to photograph everything. After about a half-hour, the guards announced that all visitors had to vacate the caves for a few minutes while the puja was being performed. Everyone was herded into the the courtyard in front of the caves, and the doors were locked. Ven. Gong Pa remarked that no monks appeared, although any service should be conducted by the Sangha. He was also surprised that no one was allowed to witness the service. Ken pointed out that probably only a few of the hundreds of tourists milling about--the most they had seen anywhere on our tour--were Buddhist.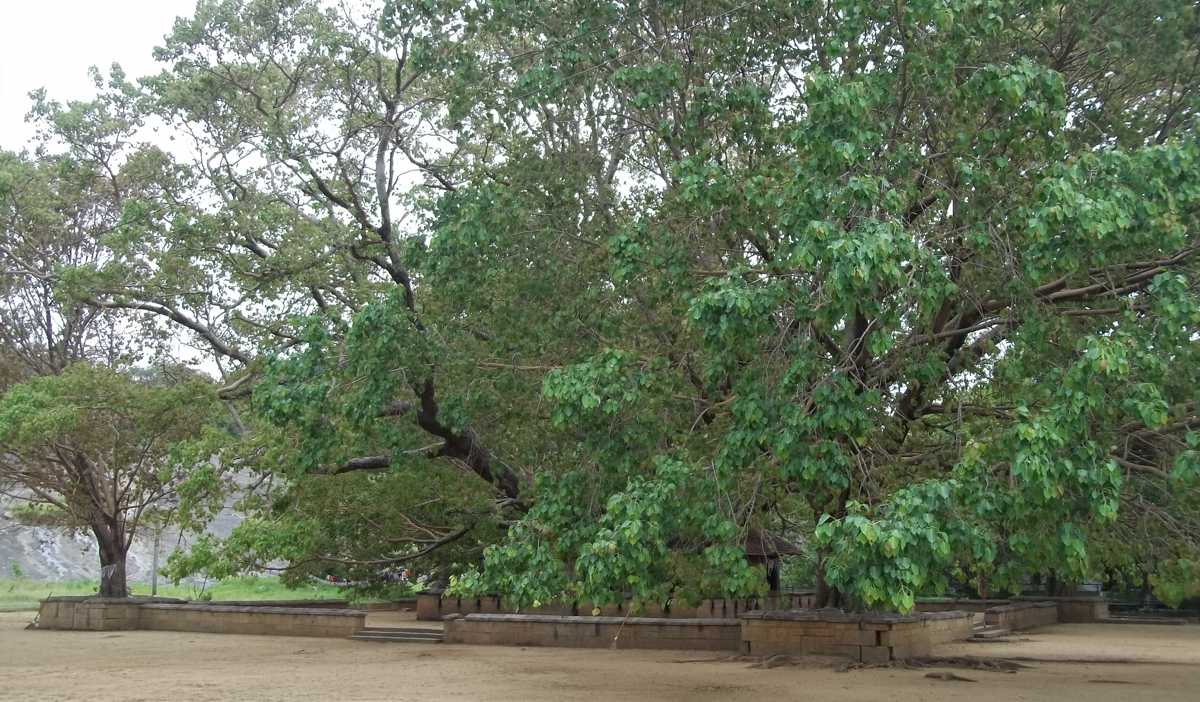 After a couple of hours, they left the caves and began the descent. They called the driver and asked him to meet them at the side entrance halfway down. They took a wrong turn, however, and followed a different rockface all the way to the main road, quite distant from the starting point. They called the driver again and described where they were. He understood immediately and quickly appeared. The mistake was fortuitous, for they discovered a set of five Bodhi trees--four small ones around the central tree--an arrangement they'd never seen before.


Ven. Gong Pa expressed his complete satisfaction with the tour. He had been most impressed by the Dambulla caves and the bhikkhu hospital in Mihintale. Ven. Hyo Eun was overjoyed to have been able to visit Medirigiriya and Ashokarama. Shortly after arriving in Sri Lanka, she had accompanied some visitors on a tour of the Cultural Triangle, and, after calculating kilometers and the speed with which one could travel in South Kores, had mistakenly scheduled only one day for visiting both Anuradhapura and Polonnaruva. She admitted that that trip had almost killed her. "Now I know how to travel!" she declared. We hope that both of them will be able to join us again for the pilgrimage to the sacred sites in India next February. It will, we promised them, be the same kind of tour, conducted at a leisurely pace, allowing time for meditation at each site.


Throughout the tour, Ken had to keep rinsing out his eye whenever possible. He never let it slow him down, but it was a constant reminder that he was going to have surgery shortly after Sunim returned to Korea May 17th.


| | |
| --- | --- |
| | |
| Click the image to see more photos of the dana | |
| | |
Before that, however, we had one more dana scheduled. This one did not include so many monks and nuns because of Peradeniya's exam schedule, but merit was shared particularly with the mother and a friend of Terry, our friend from Japan, now in Arizona.



Once Ven. Gong Pa had left, we had to concentrate on unfinished business--the house we had moved out of and Ken's surgery. Before leaving on our tour, we had returned the house keys. During the tour, we had received phone calls with complaints, but we insisted that Sanath, the former landlord, wait until we returned to Kandy.



We received a long email from Sanath, listing many items that he claimed we had stolen. Ken meticulously answered it, correcting each point. We pointed out that in an email about one year before, he had himself announced that his family was removing the beds that were now missing. We had removed the globes from the light fixtures because they were too small for CFL bulbs. Many things were in boxes in the garage, where we had stored them so that they would not be broken. We received neither a reply to that letter nor the stipulated refund--more than 400,000 rupees. We were hardly satisfied when he said he would deposit 200,000 in our bank, and our unease grew when even that did not happen. We tried to call him, but he would not answer the phone. The thought that he might just fly back to Australia without returning our money crossed our minds more than once.


One of our students, who returned to China a few months ago, included us in a chanting ceremony in the Hall of the Medicine Buddha: "Under the blessing of Buddhas' light, "May Ken and Visakha Kawasaki have long life and be prosperous."
At the last dana, Ven. Nirodha had mentioned her experience with a previous landlady, before her ordination. The woman had declared that she would not return the deposit until she'd found another tenant, and she had become quite abusive. After a complaint was filed at the police station, the woman was so afraid of being shamed that she begged her former tenant to meet at another location and agreed to hand over the full amount owed. Amal suggested that we, too, should file a complaint at the police department, and he kindly offered to help.



We (and all of our friends) have had so much trouble getting good service from shops (Singer is the big exception.) and repairmen, that we expected the worst when we had to put ourselves in the hands of the local police and the local health services. Contrary to all our fears, however, we found those two institutions to be responsive, responsible, caring, and careful. Plumbers in the US do good work, but American police forces are scary, violent, and out of control. Getting electrical work done in the US is easy, but American health care is slow, unpredictable, and well beyond the reach of many, many people. We know we can never afford to get sick in America. Isn't it ironic that the police and the medical services are among the worst aspects of life in the US, but among the very best here in Sri Lanka, right up there with the Post Office, where we always get the very finest service!



The Kandy Police Department is housed in a huge building that must date back to the colonial era, with high ceilings, fans, massive doors, and tall windows.


The room Lily and Visakha entered first said "Welcome" above the door. It was jam-packed inside. There were assorted chairs along the walls, with desks and more chairs both in front and behind. At 9 AM, all the chairs were occupied, and the room was so crammed with people that uniformed police officers had to sidle through. There were mothers with sleeping children, a somewhat agitated older man with a handful of financial papers, a graying grandmotherly type with a neckbrace, two young women with bright lipstick, looking around nervously, a heavyset young fellow who looked like he might be in the tourist business, a bearded Muslim man on crutches, a small family clustered together, waiting patiently, and many more. Visakha could see no queue, nor any system at all, watch as carefully as she could. A middle-aged man stood up and offered her a seat. A sullen young fellow was brought in in manacles and quietly interrogated. Lily overheard that he'd been in a brawl.


Suddenly, a plain clothes official summoned Lily and Visakha and started asking questions. Visakha explained our grievance, showing a copy of the lease and a sampling of emails regarding a water heater, damage by wild pigs, and the astronomical water bills. Amal quietly translated everything, and the official laboriously wrote in a ledger, occasionally requesting clarification.


Basically, we were asking for the return of our damage deposit and the refund of the six months rent we had paid in advance, all according to the contract. This should have been simple, but it took several hours to get everything entered in "the book." Actually, there were several such books around the room, as various people quietly explained their problems to different officers who were busily filling pages with black and red ink.


When all was recorded, our policeman telephoned the only number we had for Sanath. He was able to make contact, and a meeting was scheduled for 9 AM the next morning.


At precisely 9, Lily and Visakha were accosted by Sanath, who seemed to be all worked up, indignant that he had been summoned to the police department. He had brought someone--his father-in-law or uncle--as backup and began by ranting about the mess we'd left the place in and all the stuff we'd stolen. He claimed that he had replied to our last email and that he would prove that we were thieves and liars. When Visakha stated that she didn't want to talk with him without a mediator, he started berating Lily in Sinhala. Visakha advised Lily not to talk with him, since his business was with us, not her. Furthermore, Visakha told him that he should not be speaking in Sinhala because she couldn't understand. "This is Sri Lanka!" he shouted. "You should understand Sinhala!" Seeing this as no more than bullying, Visakha refused to reply, but, of course, she wanted to say, "Tell that to the Tamils!"


The same plainclothesman who'd transcribed Visakha's statement the day before soon intervened, took a seat behind a desk, signaled for Sanath to approach, and recorded his side of things in the book.


Concerned that Visakha wouldn't be able to follow the discussion, Amal had come again to help. A new arbiter, in uniform with some impressive medals, expressed his pleasure at having Amal there, and negotiations got under way. Sanath kept repeating that we'd destroyed the place and stolen his property. He produced his camera and showed some pictures--a wall with a hole where a light fixture had been removed and a pile of dirt, bricks and rubble, which was impossible to identify. The policeman asked if he'd filed an official complaint about the stolen property. When Sanath said no, the question was, "Why not?" but to that there was no reply. When asked when the photos had been taken, Sanath said that he had taken them on the tenth. When had the tenants moved out? On the first. "Sorry, too late."


Next Sanath complained that there were many nails in the walls. Visakha explained that we had specifically asked about this before moving in and that Sanath had given us permission to hang as many pictures as we wished. He claimed that we should have taken out the nails and filled the holes. Amal countered that this might be considered reasonable wear and tear and that it was an easy matter for a handyman to resolve.



Visakha mentioned the water problem--the 20,000-rupee water bills--which had driven us out, and Sanath angrily retorted that it was his house, his problem, and "None of your business!" Suddenly, Visakha realized that this was the real issue, the one that was so intractable, baffling, and expensive. She felt sorry for him. Of course, he was upset. With a mysterious, gigantic water leak, the house, mortgaged and remortgaged by the bank, was a real white elephant. He had a big problem!



At this point, Sanath flared up about a water heater which we had removed and stolen. Visakha tried to explain that the original geyser had stopped working and that we had, with his permission, replaced it with a demand heater which we had found in his storeroom. This heater had been inadvertently taken in our move, and we would gladly return it. Sanath refused to accept this. The arbiter tried to calm him down, saying "Never mind, sir. We Sri Lankans are a peaceful, friendly people. No need to get so angry!"



"How much would it take to satisfy you?" the arbiter asked both parties. Visakha replied that she wanted the advanced rent and the deposit. Sanath insisted on compensation for all the alleged damages to his property plus the return of the unfortunate water heater.



Visakha asked Sanath to name an amount that would end the conflict and the unpleasant recriminations. Sanath replied, "50,000 rupees plus the return of the water heater today." The amount seemed excessive, but Visakha wanted the hassle to end. The six months of prepaid rent was much greater than that, so she agreed. This was written in the ledger and signed by all parties. The arbiter thanked Amal for his patient assistance and apologized for his own lack of English fluency. Visakha sincerely assured him that he had done very well. Smiles! As she was leaving, Visakha realized that almost all the people she'd seen there at 9 o'clock had, likewise, completed their business and left. What a cool experience!



That afternoon, Raja, Nimal, and Ashoka took the water heater to Sanath, but it was refused because he claimed it was not the right one. Later in the day, we discovered that he had deposited money into our bank account, but, in addition to deducting the 50,000 rupees as agreed, he had kept an additional 40,000, ostensibly as payment for the damned water heater. Could he do that? Well, he did, and our only consolation is that we will, perhaps, never cross paths with him again. He is back in Australia and probably still trying to sell his white-elephant property to some unwary person.



A couple of days before Ken had to go into the hospital, Lily arranged for us to visit the Patini devale attached to theTemple of the Tooth and to perform a puja to ensure success of the surgery. It was a lovely and simple ceremony, and there was steady stream of worshipers. We will go again to offer thanks, and to pray for Visakha's safety from the cancer.



Ken had been to Kandy Hospital twice to have a bump removed from his toe; we had visited a three-wheeler driver there who had been in an accident; and it has always seemed crowded and confusing. Thus, in addition to concern that Ken was going to have general anaesthesia, with his serious sleep apnea condition, we were also a little anxious that he'd be staying in a crowded ward for five days, unable to speak a word of Sinhala.


We arrived at the hospital at eight o'clock Monday morning and went directly to Admissions. Even with the proper document, however, we were pointed in several different directions. Lily asked us to wait at the entrance while she inquired officially. That took longer than we'd expected, but, finally, she returned, and we entered the hospital proper. Someone stepped out of a cubbyhole that was under construction and pointed out an elevator. That led to a hallway full of patients in beds. We had been told to go to Ward 23. We saw 18 on the wall and 19 further down, but nothing after that. Turning left, we entered another hallway with no beds, but the walls were lined with wooden cabinets, various racks, and a washing machine with piles of laundry. Beyond that was an exit opening to the hillside behind the hospital. As we crossed a covered walkway, however, we could see more buildings set among the trees. There was Ward 23, ENT, with a ramp for a trolley or a wheelchair.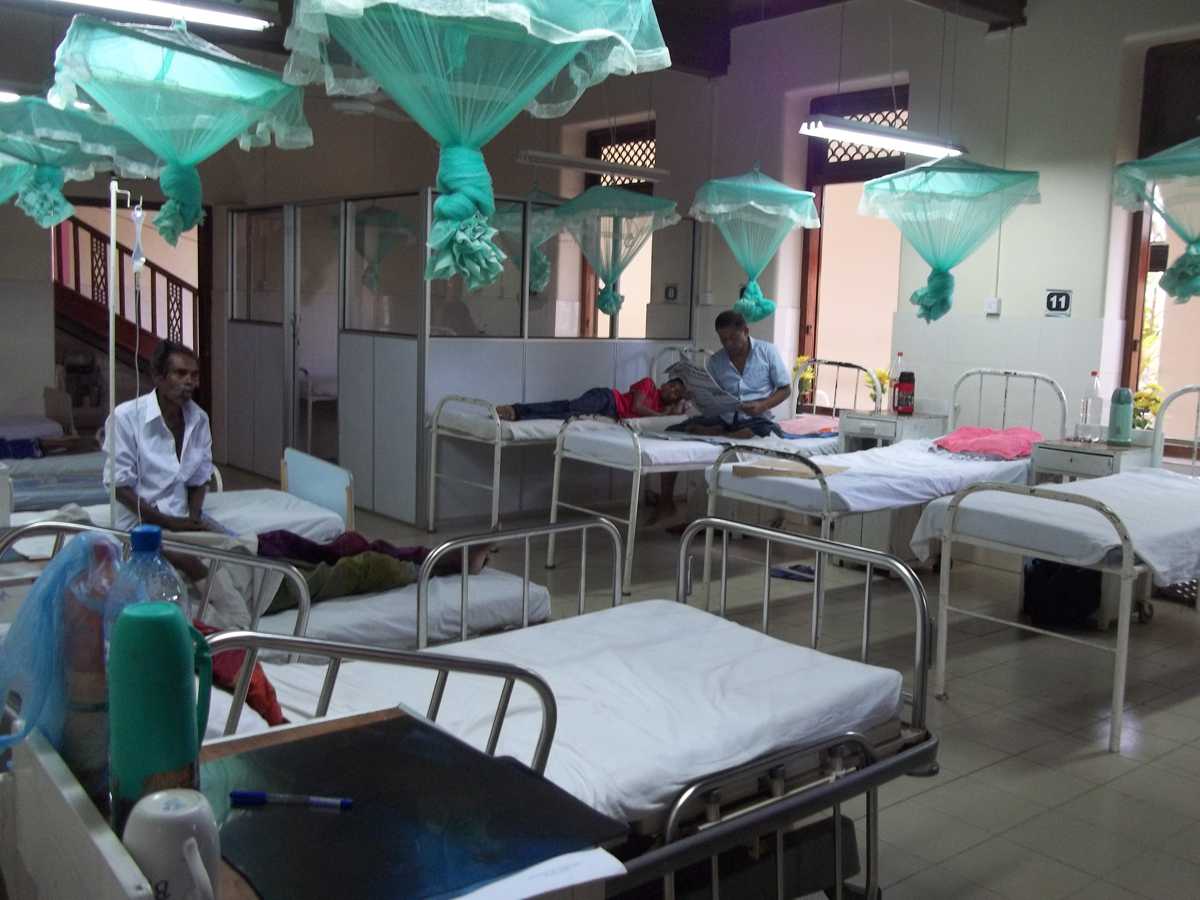 The ward was bright and well-ventilated with only 13 beds and three ceiling fans. Ken was given one of the two beds partitioned into a "semi-private room." The beds are comfortable, but each patient provides his own sheet, pillow, pillow case, towel, pajamas, slippers, water, tissue, and anything else he wants or needs. Ken, of course, had brought along his CPAP machine with its extension cord. He arranged everything, much like a hotel room, bade Visakha and Lily farewell, and waited for Dr. Fernando, who arrived about a half-hour later. He told Ken that surgery would be the next morning and to fast after ten that evening. That was it.


Ken lay down, discovered that he could download the Kindle App into his smart phone, and proceeded to read the next Peter Wimsey novel while he waited. About noon, an orderly asked for his plate. Ken replied that he didn't have a plate. A few minutes later, a plastic plate with rice and curry appeared. Ken had mentioned to several nurses that he was vegetarian, but no one had appeared to be paying attention. The curries were, indeed, vegetarian and quite tasty, despite having a little more chilli than he was used to.


A little later, another orderly escorted Ken back through the hallways for a chest X-ray and an EKG. As soon as the results of the tests were printed, the records were placed in the large plastic envelope that he always carried, and the orderly led him back to the ward. During the day, he was interviewed by two different anaesthetists, asking the same questions--age, occupation, general health, exercise, allergies, dentures, etc.


The ward was amazingly pleasant--quiet and orderly (no pun intended)--in stark contrast to the rest of the hospital. Visitors quietly appeared at exactly eight AM, noon, and six PM. Lily, Ashoka, and Nimal visited Ken, bringing tea, coffee, and other things he needed or had forgotten. There was no call button, but an attendant often passed by and was happy to fulfill any request.


At about six o'clock the next morning, a nurse came to take a blood sample and told Ken to put on a white shirt. He had only brought pajamas, so, knowing that Lily was planning to come at about eight, he quickly called Visakha and asked her to send a white shirt, which she did. She had also included a pair of loose white trousers tied with a cord, which we all felt would be better than the cream-colored pajama bottoms. The nurse, however, would not allow that, insisting that everyone wore sarong. Ken was thus provided with a white sheet stamped "Ward 23" and wound that around his waist.


Thus attired, he was invited to sit on a trolley with two other patients. A nurse and an orderly wheeled the trolley through the hallways, followed by four other patients on foot. At the operating theater, all the patients were ushered into the simple waiting room. After a few minutes, Ken was called in by the anaesthesiologist he had first met the week before. She had explained to Ken that, because of his sleep apnea, after the surgery, he would be placed in a high dependency unit (HDU)--one attendant, two patients--until he recovered from the anaesthesia. This time, she informed Ken that such a bed was not immediately available, so Ken should return to the ward until something opened up. He was given a wheelchair, and an orderly took him back to Ward 23, past all the patients he had seen twenty minutes before.


Two hours later, a nurse appeared and told him that he was to return to the OT. Once more donning the white shirt and sheet, Ken sat in the wheelchair and allowed himself to be taken upstairs, again past many patients who were becoming quite familiar. This time, he met both the anaesthesiologist and the doctor, who explained that no bed was available that day, but that, if Ken agreed, they would go ahead with the surgery, keeping watch on his recovery in the ward. It was the doctor himself who had first mentioned the concern that there was a danger from the anaesthetic because of the sleep apnea. In that case, Ken pondered, it would be better to wait for an HDU bed. The doctor explained that there were only six ICU beds in Kandy Hospital. He might contact Peradeniya Hospital and inquire about a transfer there for recovery in the ICU ward. If, perchance, nothing was available on Wednesday, the surgery would have to wait until the following week. Constantly washing the eye with boric acid was annoying, but Ken felt waiting would be better than the possible danger. Returning to the ward, he was allowed to eat until ten o'clock that night.


The rest of the day was spent resting, reading, drinking coffee, and eating the delicious food that Lily had brought. Having been given the respite, Visakha had time to borrow a white sarong from Mike and to send it by Ashoka, so the proper attire was assured. Ken saw two new anaesthetists who asked the same questions and duly recorded the answers.


We wondered what would happen the next morning. About eight o'clock, Ken would go to the OT, but what then? Would the surgery be performed? Would Ken be placed in HDU? Would he be moved to Peradeniya? He was not allowed to take anything except his CPAP machine with him into the OT, so he would not be able to call Visakha to let her know what was happening. Could we depend on the busy doctor calling her? It was finally decided that Raja, Lily's husband, should come to the hospital at six (visiting hours) and stay until eight. Then he could accompany Ken to the OT, the same as the father had accompanied a little boy who had a tick in his ear. We knew Raja had done that for a relative from Jaffna, who spoke only Tamil. As soon as the procedure was decided, he could contact Visakha.


Raja arrived. At seven o'clock, the nurse took another blood sample, gave Ken some pills, and told him to get dressed, which he did. "Why not?" he thought and stuck his phone into the pocket of the CPAP machine case. He was placed in a wheelchair and whisked away, past all the patients he had seen four times before. Sitting in the waiting room of the OT, he realized that Raja was not there. He surreptitiously called and informed Visakha. A few minutes later Raja appeared, but he had had a bit of trouble getting permission to go there.


A few minutes later, Ken was called inside and informed that, immediately after surgery, he would be taken by ambulance to the Peradeniya ICU. He excused himself, gave that information to Raja, and returned inside, where he was immediately asked to lie down on the table. Four people held him down, and then someone said, "You are going to feel a prick." A needle was inserted in his hand. "Now you are going to feel sleepy." Ken closed his eyes and relaxed. "Open your eyes so we can tell when you go to sleep." Ken opened his eyes, and, two seconds later (so it seemed), he woke up to see Dr. Fernando smiling. "I only operated on one side, so you can continue breathing," Dr. Fernando said pleasantly as Ken was wheeled away. Ken was vaguely aware of rolling through the hallways, being lifted into the ambulance, hearing the siren, and being transferred to a bed. Visakha was there. "We followed the ambulance," she said. "I have your telephone." Then sleep again for several hours, with the CPAP machine securely in place.


When Ken woke again, Lily offered him his telephone and some soup, which he quickly drank, and a cheese sandwich, which he started to eat. Suddenly, a nurse appeared and scolded him, saying that no food was allowed in the ICU. "Why?" he asked. "It's the rule!" "We didn't know." "You should have asked!" "Asked what?" "Whether food was allowed!" "We didn't know." "You should have asked!" He also learned that telephones were not allowed in the ICU, even though it was used it mainly for reading, but no one took his away from him.


Lily and Visakha returned to the ICU again the next morning, but checking out was a complicated and drawn-out affair, with Lily helping with the running around. An ambulance took Ken back to Kandy, with Visakha, Lily, and Ashoka right behind. The daughter of another patient had told Visakha that she could ride in the ambulance, but she decided to do some food shopping on the way back to Kandy.


Ken returned to the friendly Ward 23. He was placed in a bed right beside the nurses' station. The nurses told him that the Dr. Fernando had requested this bed so that Ken could be watched. With hindsight, Ken realized that this is what the doctor had meant the first day. If Ken had stayed in the original bed, no one would have noticed whether or not he was still breathing, but in this bed, he would have been under constant surveillance. This would, indeed, have been much better than ICU, where machines constantly monitor blood pressure, heart beat, and oxygen level (via finger clamp), but with no nurse to watch the bed. Perhaps that is what the anaesthesiologist was referring to as HDU, whereas the doctor talked about ICU. No matter; it was all past, and Ken was fine. He could breathe through the left nostril, though that was made much easier by using his CPAP machine, even when not sleeping. It was even possible to hold the phone in front of the CPAP mask and to read without glasses. There was nothing to do but wait and recover.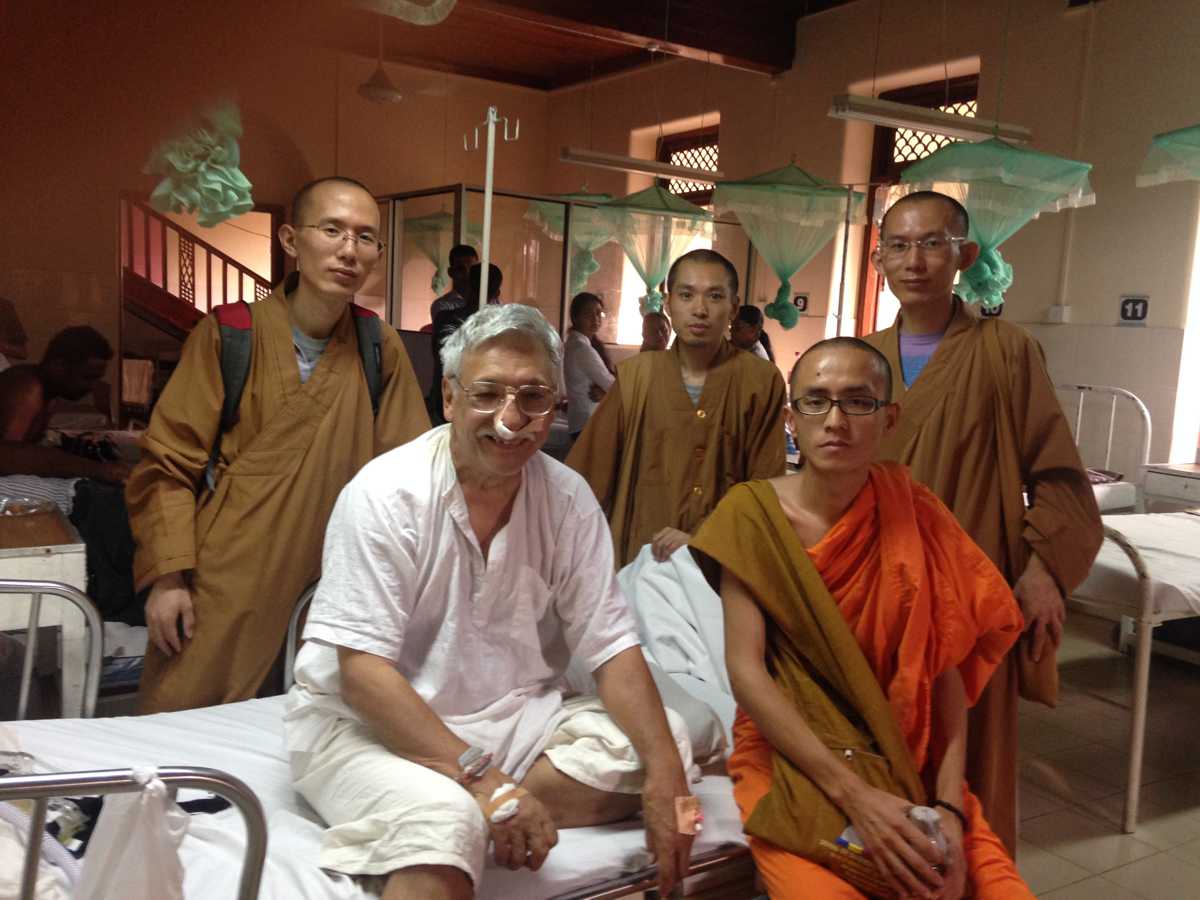 It was not during the allotted "visitors' hours," but Visakha and Lily walked down the steep road above the ward. They had persuaded officials to let them in, but not with the three-wheeler. It was a relief to get Ken settled comfortably. That afternoon, four Chinese monks, our students, brought a big bag of fruit, which Ken was able to share with other patients. Lily brought some delicious pumpkin soup, as well as a tiffin-carrier of food, much more than Ken could eat, so that, too, was shared.


Friday morning, the doctor arrived, looked at Ken's nose and announced, "I'm going to take out the packing, and you can go home." Wow! Ken had expected to stay for three more days. A couple of hours later, another doctor asked him to lie back. She removed the dressing and pulled the packing out of his nose. There was a twinge of discomfort as it came out, but then his nose felt like a wind tunnel. He had never in his life been able to breathe so freely. That surprising feeling continued for about an hour until all that air started to feel normal.


As soon as this was done, Lily began the process for discharge. Surprisingly, the paperwork for this took four hours and repeated trips to the office, both for her and for Ashoka, who had difficulty getting permission to take Lily what she needed. Finally, all the required signatures had been obtained, the fees had been paid, and Ken was free to go. Three nights in the ward, one in ICU, the surgery itself, and two ambulance rides. Total charge: 12,250 rupees ($100)!! That, friends, makes us so happy we are here!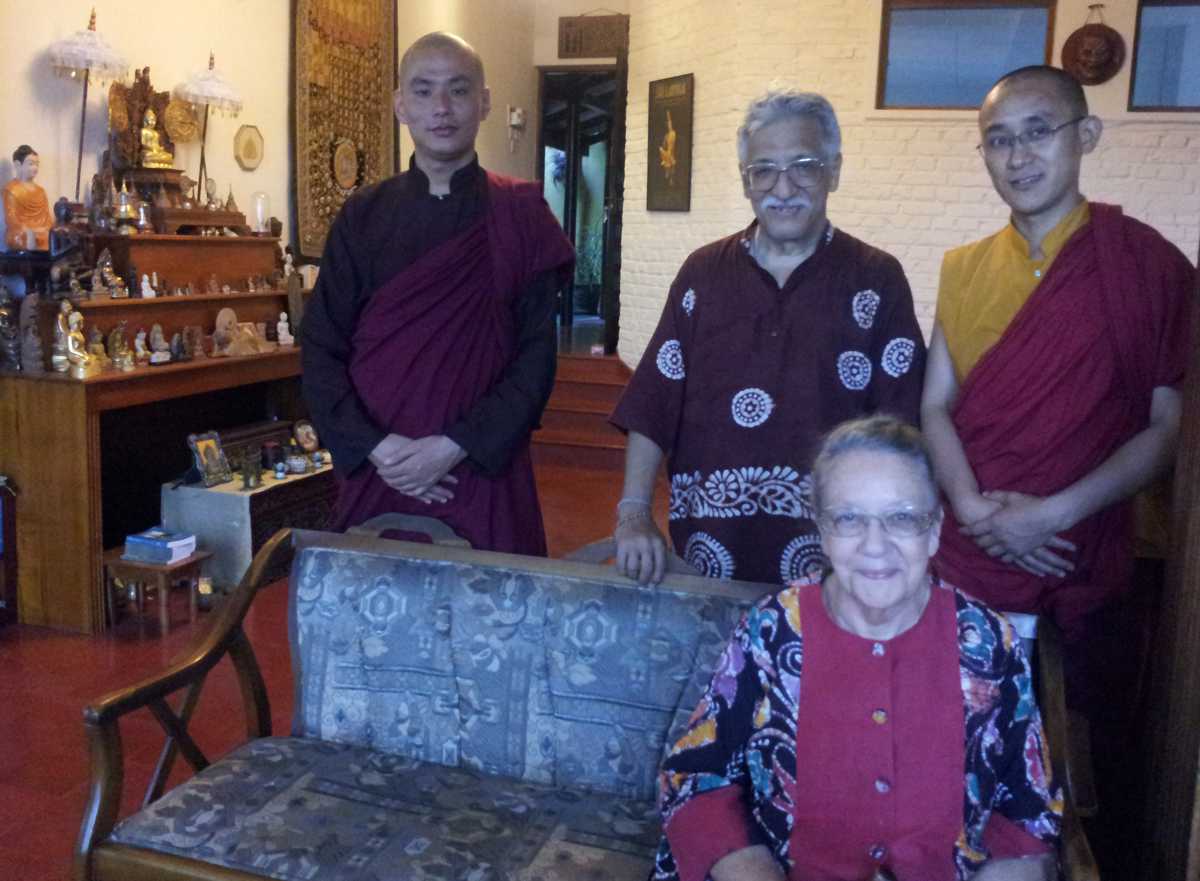 As we mentioned in the beginning, we had been worried and afraid because there were so many things that could have gone wrong. Our fears, however, were completely unfounded. Dr. Fernando is a wonderful physician. His practice and his ward are a model! He is both conscientious and competent, and obviously his staff love him. As Lily was arranging Ken's discharge, she learned that the nurses need a washing machine. We are happy to fulfill that need. We have purchased one, and it will be delivered soon--a very small donation with thanks for the excellent care and service received.


| | |
| --- | --- |
| | |
| Visakha waiting for her first radiation treatment | |
| | |
With Ken's surgery finally out of the way, Visakha made an appointment to see the oncologist. He looked at and felt the scar where the mole had been removed. He said that he couldn't feel anything, and it did not seem to be dangerous, but the edges were a little sharp, so it would be better to "burn it off." She has begun a series of five every-other-day radiation treatments. That should do the trick. All of these medical treatments are really mucking up our class schedule. It has been a long time without teaching. Thanks to the many students and friends, however, who have expressed concern.



Recent headlines about the Rohingya boat-people crisis have dominated the news, with grim reports of lives lost, ships adrift, starvation, thirst, suicide, and authorities pushing desperate people back to sea. The accompanying photos showed lean men, women, and young children packed like cargo in the hold or crowded on the decks of frail wooden craft.

As stories of the exodus appeared, there was further news of shallow graves discovered, containing bodies of trafficked Rohingyas in Thailand and Malaysia. The governments of ASEAN should have been abashed, but the constant and irritating refrain from Burma was "They are not Myanmar! They are Bengali!" as if saying it often enough would not only make it so, but also excuse the brutality and injustice that was causing this ethnic cleaning. Many see this refugee crisis as bringing Burma closer to outright Rohingya genocide. The deplorable "blame the victim" response was accompanied by silence from some whom the world expected to stand up for the oppressed, including Daw Aung San Suu Kyi.


Accompanying the news of the crisis was a plethora of comments on Facebook, breathtaking in their hate and bigotry. A few from students in past intensive courses made us shake our heads in disbelief. Does their Buddhist education not include loving-kindness and compassion? Does the memorization of Pali suttas not extend to putting the teaching into practice? Is the critical thinking we try to foster in our classes completely useless?


I understand what you said. The four Brahma are live long long ago, those days Buddha and his pupils have, they all are free from suffering and Arhant, they can give up everything to everyone, but in this moment we are normal Bhikkhus,which are very few arhant. Therefore we can not change our motherly believed religion as Islamic. so we are so sorry for Bangali (Rohingya). If UN wish to take them to USA, Canada and Australia etc, can contact with Burma government for them.

Who are Rohingyas?? There is no Rohingya exists in the 31 planets of existence. If there is no Rohingya, then who are these black skin, big eyes, big nose people living in the Arakan state near Bangladesh border for whom these blind UN, America, Western Journalists are croaking day and night? They are just a branch of Bengali people from the middle part of Bangladesh and migrated to Myanmar illegally just a few years back.


Buddha's teachings are very clear and concise. "Give loving-kindness to those who can accept. Neglect those who cannot. Leave the foolish and stay away from them." Since we are Buddhists, we must live by the words of the Buddha. We cannot miss the rare chance of being manhood and having Buddhist life just because of those foolish (Muslims). Therefore, whether you believe in our religion or not, you (Westerners) must not give trouble to us. Now you are giving trouble to us in disguise of human rights. Your conduct is not consistent with the human rights.

These are only a few comments, and actually not the worst of the lot. Aware that social media was a new phenomenon for many, we have never remarked on the monks with fashion sunglasses or the sexy model posts. This issue, though, couldn't be ignored. In every case we tried hard to be accurate, rational, and polite in our own comments, and sought to elicit some feeling of compassion. We posted informative, non-inflammatory articles from reliable sources, but were met, by and large, with uncompromising rigidity. Some whom we had previously respected even "unfriended" us, thereby forestalling further discussion.


We do see some glimmers of hope, however.


Several Muslim commentators have tried speaking up bravely. For us as Americans with many liberal Christian friends, the impulse to reclaim one's faith from the grip of fundamentalists and crazies, is very familiar.


This posting has a wonderful dose of reason and common sense!


APPEAL TO MUSLIM BROTHERS & SISTERS


Many of us have got real sympathy for our Rohingya brothers, and we also raise voice for a permanent solution to their problems in their country of origin which is Myanmar. They are human beings, and they also deserve all fundamental rights like others enjoying in Myanmar. The whole world is aware and concerned about their problems. As our neighbour, yes, we should be beside them. But it does not mean that in social media/fb we use many of the fake pictures of dead bodies, some are really scary in connection with Rohingya issue. It's true that they have been persecuted/killed/tortured for decades after decades ,and we all also know what happened to them in recent days. The type of pic uploads in fb, some are not realistic and not related to Rohingya, which in turn lighten the issue. We must remember what we say and what we upload will be cross checked by many others. So let's make the issue realistic, justified, and let's not let others undermine the whole purpose. A genuine Muslim must behave like a Muslim. Let's not allow others to laugh at us. From Bangladesh we must keep Rohingyas in our prayer ... Allah, I believe, will make a way out for them soon. On the other hand it's very true that there are many non Muslims in this world who are with Rohingyas, supporting them and making this into international concern. We must admit that in every relegion there are some bad people. As a Muslim I don't want to say all Muslims are good. Even I know some Rohingyas do favour Myanmar junta to harm own people. They are called "tabbeh." Islam never ever educates its followers to hate other religion. So my Rohingya friends and other Muslim brothers, it's not a religious problem; rather it's a human issue, and Rohingyas need all international community to put pressure on the Myanmar junta to accept them as its own national. Where will Rohingyas enjoy nationality, freedom of fundamental rights, the right to vote, etc.? Do you think Rohingyas are fleeing Myanmar to perform religion only? Then I say you are living in the wrong world. Please, friends and fellows, don't create panic; don't make more misconceptions about Islam for non Muslims. Islam is not the religion of extremism. There is no space at all. Let's assume, all Muslims in Myanmar are killed by Buddhists there. As a revenge, Islam does not allow Muslims here in Bangladesh to kill a single Buddhist living around us, and even none can say a bad word to them. This is the education of Islam. So please don't pass or spread misconceptions around. If you do, it will be a big sin.
This comment on the above post was also encouraging:


Compassion, not hatred, is the character of a strong person.
Secularism, not majority law, is the character of a strong state.
I am a Buddhist, and I strongly condemn the treatment of Rohingya Muslim fellows by some bad Buddhist people in Myanmar. Differences can be sorted not by elimination, but by healthy discussion and collective participation.
During the heat of the crisis, there appeared several thought-provoking articles:

Lost at Sea: Thai Buddhism and humanitarianism

by Paisarn Likhitpreechakul
Special to The Nation, June 1, 2015


This ongoing humanitarian crisis raises many worrying questions about the state of Thai Buddhism. The debate raging in social media over whether Thailand should help these people pits humanitarianism against concerns about the country's resources and security.


It is surprising that, in a country where 94 per cent of the population claims to be religious - more than any other country, according to a recent survey--Buddhist principles such as metta (kindness) and karuna (compassion) have not come up as top reasons for saving the lives of fellow human beings. On the contrary, another Buddhist principle, upekkha (equanimity), was used as a reason to cast them back to sea even after they were trafficked by fellow Thais.
We appreciated the comment on this article from our friend Carol:


Thank you for sharing this article, which expresses true Dhamma. It must be a lonely endeavor
In every situation, it is important to recall recent history and to remember how individuals (and regimes) acted in the past. Some are now praising the Burmese government for their righteous defense of Buddhism. Let us not forget that it was actually the brutal dictator Ne Win who stripped the Rohingya of their citizenship. Since then, Rohingya has not even been recognized as an ethnic minority. Not so long ago that the same government praised Gen. Saw Maung when he declared, "I don't care if I go to hell!" This government, popular now for its suppression of Muslims, is the same which recently ruthlessly oppressed monks calling for democracy.


The regime sank to a new low when it sentenced former NLD officer Htin Lin Oo to two years with hard labor for daring to criticize the use of Buddhism as a figleaf for prejudice and discrimination.


2 Years Hard Labor for Htin Lin Oo in Religious Offense Case


by Zarni Mann
The Irrawaddy, June 2, 2015


CHAUNG-U, Sagaing Division — Attacked by the clergy, shunned by his party and remanded in custody for six months after he was denied bail, the ongoing saga of Htin Lin Oo reached its nadir on Tuesday when the prominent columnist was sentenced to two years' imprisonment with hard labor.


His crime was to argue, in front of a literary festival audience last October, that discrimination on racial and religious grounds was incompatible with the central tenets of Buddhism.


His Speech


They [the Ma-Ba-Tha] claim to teach the Dhamma, but they do vile things--they yell and shout, and preach lies and prejudice to the people--and I am absolutely disgusted by them!


One thing for sure is that the Lord Buddha was not Burmese, or Shan or Kachin or Karen or Chin or Arakanese--he wasn't from one of the ethnicities of Burma. Brothers and sisters, are you aware of this? If you really love your race, then don't follow his religion. He is not of our race!

We found and posted another article which was inspiring:


Hero Monks Honored for Saving Muslim lives


By Coconuts Yangon, June 4, 2015


Late at night on March 20, 2013, in central Myanmar's Meiktila, hundreds of Muslim men, women and children tried to escape Buddhist mobs by hiding in, of all places, a monastery.


The abbot at the Yadanar Oo monastery was U Withudda, who sheltered the families even as attackers arrived at the doors and demanded that they be sent out.


For his live-saving efforts, U Withudda was one of three Myanmar monks honored with the World Harmony Award on May 27 in Oslo.
Even this evoked the comment:

The Rohingya ethnic cleansing crisis sparked some serious reflection on ethnocentric Buddhism, the workings of compassion, and the place, if any, for monks in politics.


by Ven Sujato
The Buddhist Channel, May 27, 2015


Perth, Australia -- In Thailand, the Sangha is governed by an act of Parliament. Frequently the monks have participated in street rallies, where the causes they are protesting was to ensure that the monks keep their privileges; I haven't heard of Thai monks protesting on behalf of anyone else's interests.


Should monks be involved in politics?

It also prompted Buddhist Global Relief (founded by Bhikkhu Bodhi) to issue an appeal for emergency assistance for the Rohingyas.


Buddhist Emergency Fund for Rohingya of Burma


Posted on May 27, 2015 by Bhikkhu Bodhi


A Letter of Appeal from US Buddhist Teachers


We are sending you this request to help with a Buddhist Emergency Fund for the Rohingya of Burma. The Rohingya, an ethnic minority group of the Muslim faith living in Burma, face a dire situation, requiring immediate attention and support. Described by the United Nations as the most persecuted minority on earth, they have been denied citizenship, health care, education, and adequate food while forced to live in harsh and restrictive apartheid-like conditions. One hundred and forty thousand have been forced into squalid camps that have been called open-air prisons.


Many thousands have tried to escape by putting their lives into the hands of human traffickers and heading out to sea. Untold numbers of Rohingya have now been abandoned and left floating in rickety boats without food, water or medical care. Governments in the region and the world have refused to launch a search and rescue mission to save them and some navies have even pulled these desperate people further out to sea.


Because this refugee nightmare is in part due to the policies of Buddhist countries, principally Burma and also Thailand as well as Malaysia and Indonesia, it seems especially important for Buddhists around the world to visibly respond according to the central Buddhist values of compassion and respect for all beings.

In this Samsara there are no Dhammalands, no pure, Buddhist countries, no permanent, reliable, lasting justice or peace. Let us be wary of strong attachment to family, tribe, religion, or country. Such attachment is dangerous because it can easily lead to blind hatred, harsh speech, and violence, wrong action. The Buddha taught suffering and the end of suffering, and he extolled generosity, patience, loving-kindness, and compassion.


To conclude, let us quote the Buddha himself:


The Parable of the Saw
Kakacupama Sutta



"Monks, even if bandits were to savagely sever you, limb by limb, with a double-handled saw, even then, whoever of you harbors ill will at heart would not be upholding my Teaching. Monks, even in such a situation you should train yourselves thus: 'Neither shall our minds be affected by this, nor for this matter shall we give vent to evil words, but we shall remain full of concern and pity, with a mind of love, and we shall not give in to hatred. On the contrary, we shall live projecting thoughts of universal love to those very persons, making them as well as the whole world the object of our thoughts of universal love — thoughts that have grown great, exalted and measureless. We shall dwell radiating these thoughts which are void of hostility and ill will.' It is in this way, monks, that you should train yourselves.


"Monks, if you should keep this instruction on the Parable of the Saw constantly in mind, do you see any mode of speech, subtle or gross, that you could not endure?"


"No, Lord."


"Therefore, monks, you should keep this instruction on the Parable of the Saw constantly in mind. That will conduce to your well-being and happiness for long indeed."


That is what the Blessed One said. Delighted, those monks acclaimed the Teaching of the Blessed One."


--Majjima Nikaya 21, (excerpt)
"Bhikkhus, if for just the time of a finger snap a bhikkhu develops a mind of loving-kindness, he is called a bhikkhu who is not devoid of jhana, who acts upon the teaching of the Teacher, who responds to his advice, and who does not eat the couhntry's almsfood in vain. How much more, then, those who cultivate it!"


--Anguttara Nikaya, 1, 54 (4)
We just reieved word from Ven. NandoBatha in Kolkata. The Intensive Course in India is definitely on, but the dates have been slightly changed.
Seventh Indian Intensive Buddhist English Course July 27 - August 27, 2015

Buddhist Relief Misison is planning to conduct this course at Bodhisukha Monastery in Kolkata, but the staff is not yet fixed. Teachers are welcome. Classes will be held Monday-Friday. Lunches are prepared in the monastery kitchen. Accomodation for teachers is provided. An short excursion to BuddhaGaya or Shanti Niketan can be arranged.
Most of the students will be Burmese monks studying at universities in India. The students are extremely eager to learn, and teaching them is a truly rewarding experience. If you are interested in volunteeering to teach in the course, even for a part, if not the full term, click the photo for more information. All friends are invited to take part in this meritorious work by donating toward lunches and material.

Click to read about previous courses: 2006 2007 2008 2011 2012 2013

Lunch for one day costs about US$100.

Neither the date of publication nor the price has yet been set, but there has been progress. The cover of our new book has been designed: