Squeeze My Hand, September 8, 2013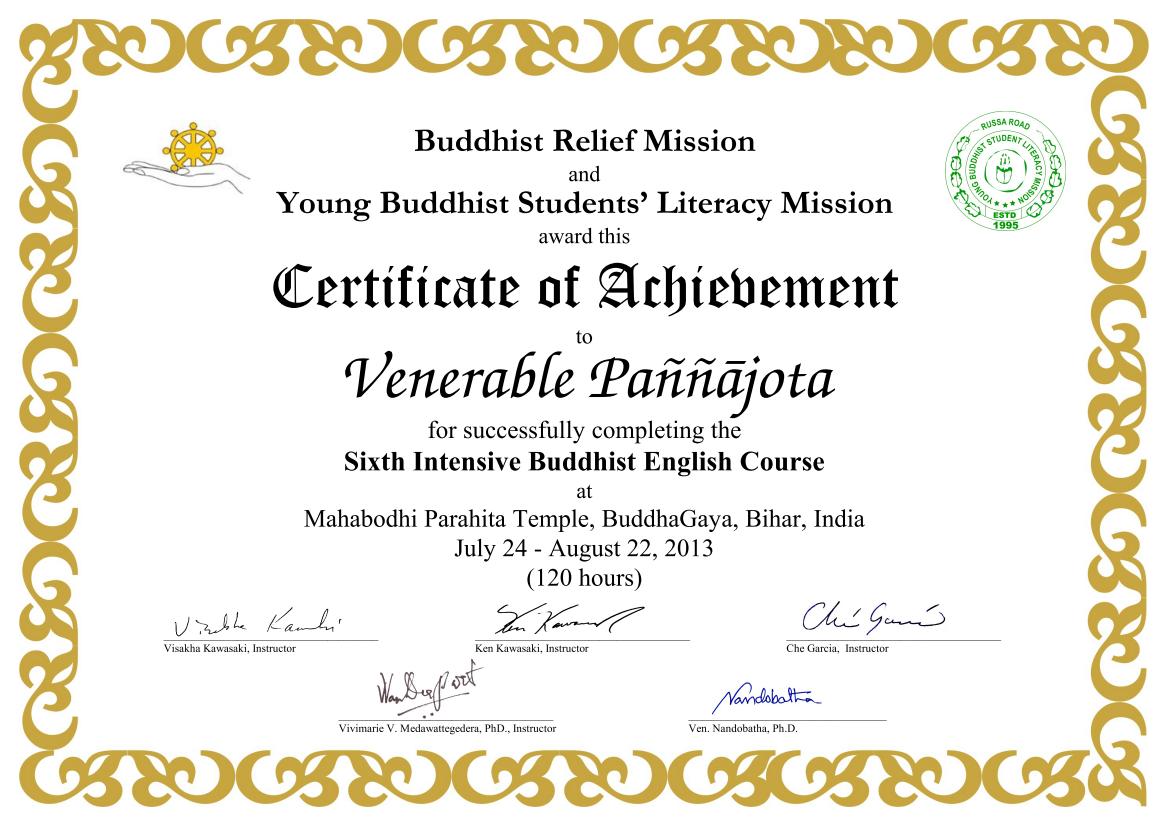 This Sixth Intensive Buddhist English Course was the first in BuddhaGaya and the first with Che. It was also the first intensive with a unified curriculum--all teachers were using Merit and A Pilgrim's Companion. (Ven. Nandobatha had printed one thousand copies of the latter in India, so we were able to present one to each student.) It was a very different experience from the past where we were all staying together at Bodhisukha, and we are still evaluating the results.


Click for more photos of Bangalore
We left Sri Lanka July 13 and flew to Bangalore, with its pleasant temperatures and ample green. The city has grown incredibly since we were last there (2001), and the MahaBodhi Society, our destination, has developed beautifully. Joined by our Japanese friend Asami-san, we had a welcome talk with Ven. Ananda and an excellent tour around the compound. Then we accompanied Ven. Ananda to the nearby hospital where Ven. Acharya Buddharakkhita was recovering from a stroke. He was sleeping, but we were able to pay our respects. Back at the monastery, we visited the little bookstore set up with access from the street. We bought books and VCDs of Ven. Buddharakkhita's talks, and Ven. Ananda gave us hundreds of bookmarks for our students. There is a paucity of Buddhist books in India in general, and, in Bangalore, with its educated, IT-oriented, and youthful population, that's a particular pity. We promised to send copies of A Pilgrim's Companion, and Ven. NandoBatha will be sending them soon. He has never been there, but he expressed the hope that, when he's not so busy, he'll be able to visit the Society.


On our Sri Lankan Airlines flight to Bangalore, we were allowed 80 kilos, which meant we could carry a lot of books, videos, games, and other teaching materials. On the Jet Lite flight to Kolkata, however, we were allowed only 40. That meant we had to find a courier service in Bangalore for two suitcases. With the hotel staff's help that was not difficult, but we wondered whether the hole-in-the-wall office was a bona-fide courier. We guarded the receipts, and Rajiv and Abhijit were able to contact the office in Barasat. Not surprisingly, there was a delay, but R and A offered to pick up the suitcases and carry them to Bodhisukha, ensuring that they were in our possession before we left for BuddhaGaya. For the return trip, we also had to divest ourselves of many kilos. That meant sewing parcels in cloth to meet the requirements of the Indian Post Office (for R and A to post). They have both arrived, with only a small customs duty for three beautiful straw mats.


| | |
| --- | --- |
| | |
| Click to see more photos of Bodhisukha Monastery | |
| | |
Rajiv and Abhijit met us at Kolkata airport and took us to Bodhisukha, where the boys welcomed us warmly, and we enjoyed being spoiled by them as usual. Everybody got a Sri Lankan T-shirt, and we promised them a movie after the intensive was over. (We kept that promise by watching "Princess Mononoke", and we gave them some copies of other movies from our library.)



Che, the American teacher we'd been corresponding with, was waiting there for us. He had arrived on his own the day before. He's from New York City but has spent almost half his life in Asia, studying and working, mainly in China. He's fluent in Chinese and conversant with all things Chinese, but he's kept his American style and energy. He's a serious student of Buddhism and has taught English to monks and novices in Thailand, so he was eager to try using Merit along with us. In the Burma Colony, we saw Rajiv's new house (Sorry to say that Shila and baby Visakha are still in Burma.) and met Soma, Abhijit's lovely wife, who is expecting their first baby shortly.

Click to see photos of Che's visit to the Indian Museum

Rajiv's cousins, Che

Ken, Visakha,Soma, Abhijit

Rajiv

Ken, Visakha, Che, Abhijit
Our few days in Kolkata were really busy. Between shopping trips, gathering all the supplies we would need in BuddhaGaya, we printed multiple copies of Ten Steps, the old-fashioned controlled composition course we've used with success for some years, and the first lessons of Merit. When the time came, everything was loaded on top of the Pajero, and, with Sumon at the wheel, Rajiv, Che, and we two set off. The sky looked threatening, so, before we left Barasat, Sumon bought a bright orange tarpaulin and rope to cover the suitcases on the roof. That proved a wise decision, for we drove through several deluges between Kolkata and BuddhaGaya, though Bihar itself has not had nearly enough rain. Every day we read in the newspapers of the drought which has been devastating the state for five years. It was reported that 50 per cent of the rice has withered from the lack of rain and that Vaishali was particularly hard-hit.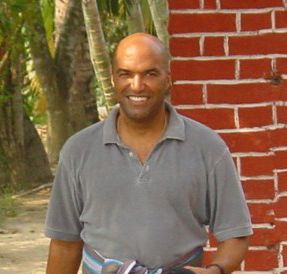 As soon as we had arrived in Kolkata, we received a message from Steve, informing us that he had had back and neck problems and would be arriving a little late. Then, just as we were expecting him in BuddhaGaya, we got another message with much grimmer news. He had suffered a torn retina--"no trauma to the head or eye but a surge in blood pressure after standing up suddenly and then having blood appear in the vitreous fluid of my right eye." He was going to have immediate laser treatment, but suggested that he might "fly in for a 'social' visit for two weeks, provided eye surgery is not necessary."


It goes without saying that we were very disappointed, especially the old students and Vivi, who had worked with him last year, but, considering the conditions in BuddhaGaya, where there is no medical treatment available, with oppressive heat and choking dust, we immediately advised him not even to think about coming this year. We have since learned that his treatment was successful and that he is recovering, nicely.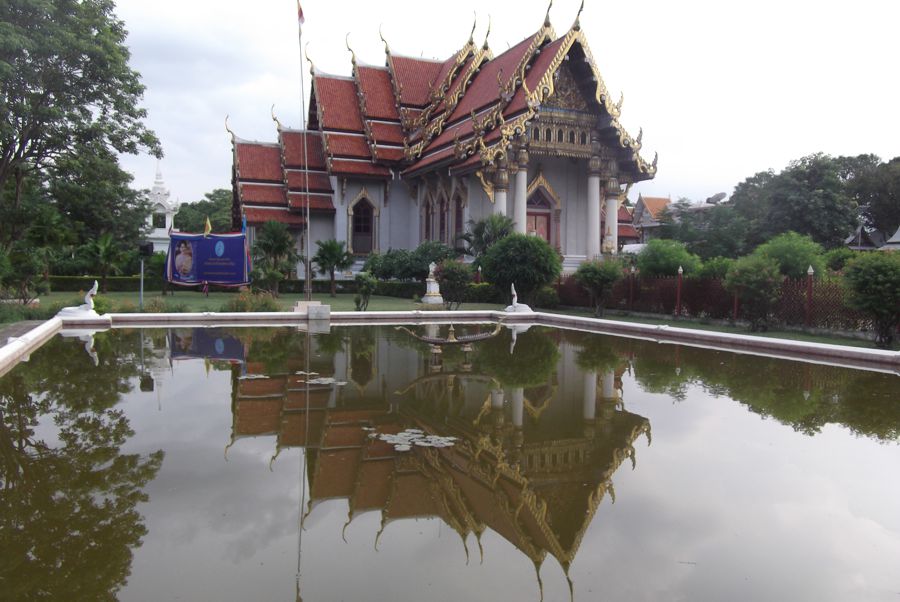 Let us pause here to make an observation. BuddhaGaya is revered as the most sacred site for all Buddhists around the world. Every year millions of pilgrims visit the MahaBodhi Temple. Most stay several days. There are at least twenty international temples with resident members of the Sangha. These temples are supported by generous donations from devotees. Every year, the MahaBodhi Temple itself receives millions of rupees from pilgrims. For example, some wealthy Thai donors are intent on gilding the spire of the great temple. In contrast to such ostentation, there is no hospital in the town. There are virtually no medical facilities at all. By and large, the citizens of BuddhaGaya live in dire poverty. Many Buddhists rightly decry the situation of the MahaBodhi Temple, requesting that the Government of India change the law and give Buddhists control of this sacred monument. If the foreign Buddhist temples in BuddhaGaya and their supporters were to offer more social services, medical and educational, to the people of the community, they might receive in return not only gratitude, but perhaps also support for their cause. Furthermore, a hospital would be of benefit to pilgrims and tourists as well.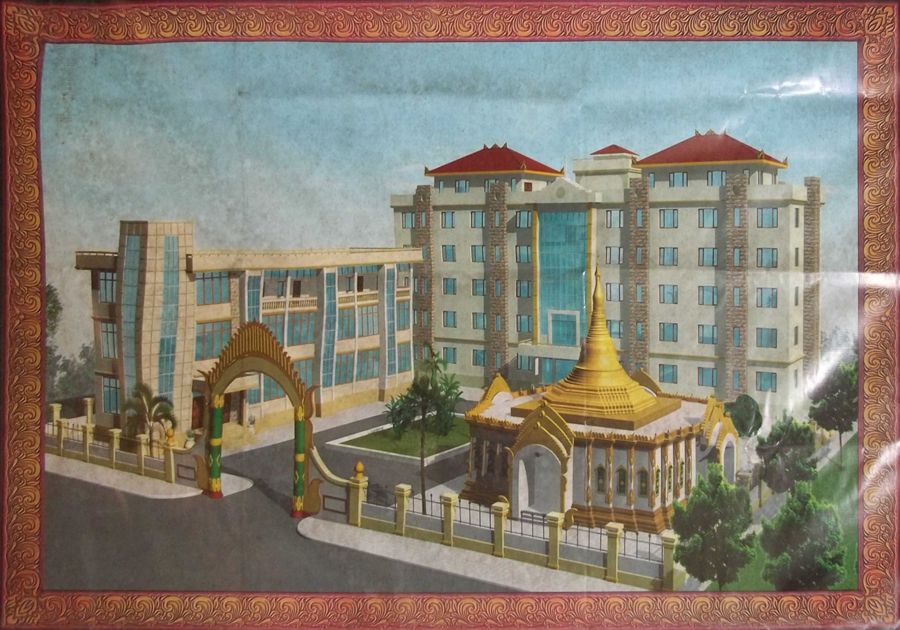 | | |
| --- | --- |
| | |
| | |
| | |
The course was held at MahaBodhi Parahita Monastery, which is being constructed by Young Buddhist Students Literacy Mission. The classrooms were in two temporary buildings, with a canopy stretched between. Many of the students stayed in a temporary dormitory with 5-8 beds in each room. Some students stayed in other monasteries around the town. Commuting at night was impossible, so we were not able to schedule any evening activities. Still, we taught six hours each weekday, and students faithfully completed homework lessons.



The Opening Ceremony was held on July 24, and classes began that afternoon. Vivi arrived from Kolkata a few days later. Abhijit accompanied her on the train. Although railway security was heightened, we felt it would be safer to have someone with her.


| | |
| --- | --- |
| | |
| Click to see more photos of these activities. | |
| | |
| | |
With all of us teaching from Merit, we were able to cover more lessons than we had in any previous intensive. Two lessons got the students out of their seats and were particularly successful. In Lesson 7, the pilgrims visit the Indian Museum in Kolkata. We posted the photos of the carvings from the Bharhut Stupa on the walls, and the students circulated, as though they were actually in the museum, to identify the story in each carving. In Lesson 9, the students had to indicate what the Buddha was doing in each scene of an exquisite Burmese painted scroll of the Enlightenment and the seven weeks following, now in the British Museum. Again, we posted the colored pictures on the walls for the students to study and discuss.



It is hard to say which classroom was more preferable. The small one was a bit dark, with little ventilation. The big one had many windows and a gap between wall and roof, so that many seats were in sunlight. One day, we learned that the temperature exceeded 100 degrees F (37.8 C) with a discomfort index of 117 degrees F (47.2 C). Still, no teacher could ask for more eager students, despite the conditions.



Outside the big classroom was a mound of earth about thirty feet long and ten feet high. Laborers were almost constantly climbing across it to dump loads, which they carried in pans on their heads, on the other side. Actually, construction work continued non-stop the whole time we were there, but only once, when a tractor dumped a cartload of rocks, did the noise disturb us. Everything was done by hand, head, and foot, with virtually no machinery. Our hearts, however, went out to the laborers who kept moving in the intense heat, for a daily wage of about three dollars and all the water they could drink.


The big classroom was also the monks' dining room. Our big whiteboard was nicely positioned to display the bulletin board on which we announced the names of the donors for the meals. Each day, the monks chanted anumodana in recognition of the donations received from all over the world. The success of the course was due to Dr. NandoBatha's support and the generosity of those donors. Sadhu! Sadhu!! Sadhu!!!


| | |
| --- | --- |
| | |
| Click to see more photos of Buddhist Knowledge Quest | |
| | |
| | |
| --- | --- |
| | |
| Click to see more photos of movie sessions. | |
| | |
On Saturday, we showed a movie in the morning and, in the afternoon, played Buddhist Knowledge Quest which the monks took to enthusiastically. In the heat of play, it was sweltering in the big room, but Rajiv offered the monks chilled mango juice in their reused bottles, and the contest continued. One of the old students had studied the questions and emerged grand champion, winning at all four levels! On the last Saturday, all winners were awarded prizes, and every participant, as well, received a gift.


We stayed in the Hotel Kanako around the corner from the MahaBodhi Parahita Monastery. From our window, we could see cows, goats, buffaloes, and dogs wandering in the fields between the monastery and the hotel. Our room was large enough for sleeping, but, with two computers, the scanner, and two printers, it felt a bit cramped. Since the coffee table was covered with electronic equipment, the tray for afternoon tea for the teaching staff had to be placed on the foot of the bed. The hotel advertised Wi-fi, but the waves were usually too weak to reach the rooms. They were sometimes stronger in the lobby, but then only when there was electricity. Most of the time, we depended on dongles, which we paid for. Power outages were frequent and sometimes lengthy. The hotel had a generator for backup, but, the A/C was not connected to it. When the A/C was working, however, the room became quite polar, which felt good at first. With sweat-soaked clothes after teaching, however, it was a shock to the system. Ken developed a hacking cough which he could not kick until he got back to Kandy. In BuddhaGaya, he was going through three sets of clothes every day, which created a humongous laundry bill. Our dhobi-wallah may have been very happy, but some clothes never recovered from the beating.


| | |
| --- | --- |
| | |
| Click to learn more about these two books. | |
| | |
| | |
It being off-season, the hotel was virtually empty. We were the only guests except for a young Japanese man and several Burmese, who stayed only a couple of nights. For the entire month, the hotel staff took excellent care of us. We took our breakfast and lunch (cooked by the monastery and sent over in a tiffin carrier), in the hotel dining room, in the basement. It was neither ventilated nor air conditioned, so it was stuffy and somewhat claustrophobic. Visakha did her walking meditation every evening in the hallway, with the gekkos, but she never saw the rat who had chewed a neat hole through a housekeeping closet door.

We might have felt guilty commuting by car, but even the infrequent showers maintained a treacherous patch of mud in front of the hotel. Vivi fell once and had to go back, take a shower, clean her shoes, and change clothes. Moreover, the "road" to the monastery was so rough that negotiating it with an armload of papers or a computer case (for movies) would have been impossible. Ken braved it a couple of times in the evening, but only with a flashlight to illuminate the cowpies. Students, however, thought nothing of it, as they delivered their writing assignments to us, even as late as nine PM.



Che and Vivi both enjoyed using Merit, but we realized how essential it is for us to create a teacher's manual. Lesson objectives and the wide variety activities need to be explained clearly. For this course, we had the advantage of working with experienced teachers and the luxury of frequent discussions before and after classes. Other programs won't be so fortunate. All of us drew extensively from A Pilgrim's Companion, for both long readings and short meditations.


| | |
| --- | --- |
| | |
| Click to see more photos of the temples and the reports. | |
| | |
| | |
The four of us devised an exercise based on the various ethnic monasteries in BuddhaGaya. We divided the students into twelve groups and assigned one monastery to each. The students had to visit that monastery; learn about it; talk, if possible, with resident monastics; and take photos. (They all have cameras or cell phones which take pictures.) Two days later, one class session was devoted to these reports. Ken had collected all the photos and projected them from the computer onto to the TV screen. Interestingly, this was completely new to all the students. Although they are all studying at nearby Nalanda or at Magadh University in BuddhaGaya itself, none of them, it seems, had ever been to any of the other temples. They did a great job of reporting. Everyone listened carefully and thoroughly enjoyed it.


| | |
| --- | --- |
| | |
| Click to see more photos of the Mahant's Palace | |
| | |
One lesson in Merit introduces the campaign to restore the MahaBodhi Temple to Buddhist control. As part of the lesson, each student wrote a letter to the Prime Minister of India urging the government to think seriously about this. This hefty pack of letters was sent by registered post to New Delhi. The lesson mentions the Mahant, the Hindu sadhu who claimed the entire area in the sixteenth century. As a follow-up exercise, we sent the students to the Mahant's palace, another place few of them had ever visited. The next day, they reported on what they had seen, explained their photos, and asked questions of Ven. Pannasila, who, having been Secretary of the MahaBodhi Temple Management Committee for some years, is very familiar with every aspect of the matter. This, too, was both enlightening and enjoyable to all.



Having Ven. Pannasila with us, after a lapse of seven years, as well as several other Indian monks, including one from the Tibetan tradition, meant that issues of caste and untouchability (also covered in Merit), the Buddhist revival in India, Mahayana practices, and the controversy surrounding the Hindu-dominated MahaBodhi Temple Management Committee became more relevant for our Burmese students (the overwhelming majority). Articles in The Hindustan Times ceased being abstract reportage and became important matters for discussion and questions.


(When an official from the CID came to the monastery to interview Ven. Pannasila about the recent bomb set off at the MahaBodhi, he mentioned that the Prime Minister had received our letters.)



One Saturday, after we had finished playing Buddhist Knowledge Quet, some of the students took us to visit the new center for the U Chandramani Student Welfare Association (UCSWA), which is under construction in a village outside BuddhaGaya. We were treated to fresh fruit and --get ready for it--COFFEE, the first we had had since arriving in India! One of the old students recalled the coffee shop set up last year at Bodhisukha and proudly announced that he remembered Ken's telling him to "squeeze my hand." Totally puzzled, we probed a little further. "Last year, when I asked if you wanted coffee," he explained, "you said, 'Squeeze my hand!'" Then we understood--"Twist my arm!"



Burma is never far from our thoughts. Rajiv spent many hours describing his experiences and observations from his travels around the country after a long absence. He was frank about his disappointments, the dreadful poverty, the simmering tensions, and the democratic promises unkept. Nothing he shared surprised us, but his first-hand experiences served to confirm our pessimism. The day after we arrived in Kolkata, Ven. Nandobatha returned from several months in Burma. His description of conditions in Arakan was pretty bleak. He explained that, before he had come to India to study, his village had four full football teams, each with both first and second strings, whereas now there are none. The only adults remaining in the village are either aged or very young. All able-bodied men are working outside--Thailand, Malaysia, Korea, Japan--trying to survive. He dreams of instituting a micro-credit project modeled on his extremely successful program in Kolkata but frankly admits that it wouldn't be possible under the present circumstances.


Click to see more photos of Vivi's Farewell Ceremony.
Vivi had to return to her duties at the Open University before the intensive finished, so the students arranged a farewell ceremony for her, in which they expressed their appreciation for her teaching and friendship. Their speeches were heartfelt and touching.



Toward the end of the course, we introduced a variety of logic puzzles for a taste of critical thinking, which is very much needed in this world. Che used his last few sessions with one class to focus on grammar and sentence construction. In the other, he guided the students in serious discussion and debate on topics, such as bhikkhuni ordination. The students really appreciated the chance to express themselves.


| | |
| --- | --- |
| | |
| Click to see more photos of class sessions. | |
| | |
Many of the monks plan to return to Burma and to set up schools, teaching, among other things, English. They found the intensive course inspiring, not only for the language they acquired, but also for the introduction to new teaching techniques. Their previous experience with language learning had been very traditional, teacher-centered, and grammar-based. They found the use of readings (both Jataka and other stories), dialogs, role-playing, working in groups, games, pronunciation exercises, and logic puzzles exciting. To that extent, these intensive courses are, for them, valuable teacher training.



One topic often simmering just below the surface was the anti-Muslim sentiment so rampant in Burma recently. Perhaps at the back of everyone's mind was the cover of the banned

Time Magazine

with the photo of the monk in the forefront of the 969 campaign. Early on there was a brief discussion of prejudice and hostility towards Muslims in Che's and Vivi's classes. With their different experiences and perspectives, they managed to clear the air. Although we never raised the issue in any of our classes, we did focus on Dhamma materials that dealt specifically with non-violence and loving-kindness. We also cited the western view of Buddhism as a religion of love, peace, harmony, and tolerance and our pride in the public face of Burmese Buddhism back in the days of the

Saffron Revolution

. We had to be pleased, when during an exercise using a city map of Patna in which the students identify and locate places to shop in preparation for an ordination ceremony, one student suggested that we invite the leaders of other religious organizations to the ceremony. The other students gave directions to the church, the mosque, and the Hindu temple.
With our driver at a restaurant in BuddhaGaya
It may have been off-season for Buddhist pilgrims, but there was no shortage of Hindu pilgrims. Though we did not visit the Mahabodhi Temple itself (preferring to remember it as we have seen it so reverently in the past), we were constantly running into hordes of men dressed in bright orange shorts and shirts. They swarmed all over the town, darting in and out of the temples so quickly it seemed that they just wanted to check each one off the list.


| | |
| --- | --- |
| | |
| Click to see photos of the Closing Ceremony. | |
| | |
The Closing Ceremony was held on August 22. It had been a full month--as Che pointed out, from full-moon to full-moon. Many of the students expressed how much they enjoyed the course and urged us all to come again next year. Che's enthusiasm was infectious and the students were quick to respond to him. His final comment was, "I've never felt so rewarded as a teacher!" That did our hearts good!


| | |
| --- | --- |
| | |
| Click to read Che's report of his exeperience. | |
| | |
Many students are continuing writing practice via email. How can we help but love homework that comes with the subject: "I am so happy to do Ten Steps!" or smile at the locutions our students attempt. In one exercise the task is to convert the present tense to the past. For the sentence: "Lady Marsden welcomes the guests," one student wrote, "Lady Marsden welcame the guests." Why not?!



On our return to Sri Lanka, we received a message from Dr. Chula in the UK. For several years, he has been struggling to lay the groundwork for the burns unit im memory of Ven. Sumedha at Peradeniya Hospital. Commenting on the difficulties he has encountered, he wrote, "I have come to the conclusion that the human race has a design fault." When we look at the mess the world is in today--the environment, climate change, war (read, "Syria"), and politics--we have to agree. Indeed, the only solution is: "Avoid evil, do good, and purify your mind. This is the teaching of the Buddhas."