Crossing Paths, December 15, 2014

Sixth Kandy Intensive Buddhist English Course
January 12-31, 2015

Buddhist Relief Misison is happy to announce that instructors are already lined up, and plans are moving forward. Classes will be held Monday-Friday, with special activities on the weekends. Lunch packets will be prepared every classday by Lily and her team.
Most of the students will be foreign monks and nuns studying at universities in Sri Lanka. A few places are open for interested Sri Lankan monks from local temples. All friends are invited to take part in this meritorious work by donating toward lunches and material.

Click to read about previous courses: 2009 2010 2011 2013 2014

Lunch for one day costs about US$100.
When we arrived on November 7, Bangkok seemed much less welcoming than in previous years. She's a tired old wreck of a city, leaderless and unloved, mall-ridden, and soulless. Ugly too. The economic bust left many unfinished concrete skeletons dotting the cityscape, an eyesore against the smog-smeared sky.


A New Year's Card

Click the image to view
Whenever we found ourselves stuck in traffic, we reminisced about the past. In 1968, when Visakha first visited, it was still a city of klongs. In 1979, we spent several weeks rambling around, exploring the city. Chinatown, adjacent to most of the important temples, was full of surprises--two theaters for Chinese opera, a shop with a ten-foot stack of trays bristling with bean sprouts ready for harvest, a man busily pulling baby chicks from their eggs and dropping them into a basket, and much more. We had come to recognize the Thai sign for "hotel," and were able to find a room for 30 baht, little more than a dollar. After a good night's sleep in the tiny room, at about eight o'clock in the morning, we heard, "Caw-caw-caw-caw!" coming from the hallway. When we opened the door, we found a small boy carrying a rack of coffee in glasses. He handed us two of the glasses and walked on, "Caw-caw-caw-caw!" About thirty minutes later, he returned, offered us hot Chinese tea, and asked for a very small payment for the coffee. That unnamed hotel may have once been a brothel or an opium den, but it suited us nicely. Just down the street, the Valentine Coffee Shop (in a bonafide hotel) offered a hearty and cheap Western breakfast.



Just as Fifth Avenue is devoted to high fashion, Chinatown is (was) divided into specialized areas. One street had fifteen recording studios. The shops in the next one sold only water pumps. One block displayed a wide variety of pistols and rifles. Most of the gold shops are still on Yawarat.



Two years later, when we returned to Bangkok in preparation for working in the refugee camps, our bosses sent us to a five-star hotel for orientation. As soon as we learned that we could use our per diem however we wanted, we moved back to that 30-baht hotel. Even with crosstown taxi rides, we saved enough for a bookcase full of beautiful books. Over the years, we tried many different hotels, gradually moving up in price, and finally settled on the Burapa, a respectable establishment for businessmen from all parts of Asia. The lobby was always filled with bags of goods and textiles, labeled in Chinese, Bhutanese, Hindi, or Urdu. No pretenses here. Every summer there was a durian vendor stationed in the parking lot, and the hotel staff never complained if we took the fruit inside, unlike other hotels where "No durian allowed!" signs are prominently posted. The parking lot opened onto a bridge over the klong, where, for many years, a family ran an open-air restaurant every night. We couldn't speak much Thai, but we could manage food. After greeting the matron, we waved our hand over the vegetables in the glass case and said, "Sai tahu!" A little later, one of the daughters would bring us generous dishes of sauteed vegetables with tofu. All the restaurants are gone now. The klong has been covered by an arcade of bargain electronic equipment stalls. We no longer stay at the Burapa, but the coffee shop there still serves the most delicious fried noodles in Thailand.


Wang Burapa, as the area is called, is a fascinating area of Bangkok. The shops around the hotel are run by Chinese, but just a block and a half away, the street suddenly turns into Little India with at least two Indian restaurants catering to locals, rather than tourists, with marvelous Indian sweets and spicy samosas. It is but a short walk to both Chakrapet and Pahurat, where all the dressmakers buy their textiles. Easily overlooked, in the middle of this is a button shop, owned for at least one hundred years by the same family. The little shop displays buttons and lace from all over the world. This year we stopped in, more to chat with the owner than to buy anything, but we did find some buttons made from beautiful stones that perfectly match two of Visakha's suits.


During the fifteen years we stayed a the Burapa, we were constantly surprised by the shopping in Wang Burapa. One of our Hmong friends asked for a set of drums. Two blocks away are the music shops. The Burmese doctor wanted medical books. Two minutes from the hotel was a medical textbook store. A Japanese nurse brought an EKG machine for Mae Tao Clinic, and, on the corner, was a shop selling the suction cups she needed. When we returned from Burma with mold inside our Pentax camera, we found the authorized Pentax dealer across the street. The trustees of a pagoda in Rangoon asked for halogen lamps for their floodlights. The exact bulbs they wanted were available in the electric store next to the hotel. And so it went!


Not far from there, just the other side of Hualumpong Railway Station is the best Chinese vegetarian restaurant in Bangkok. In the twenty years we have been eating there, we don't remember having seen another foreign customer. There are only five tables, and they are always full. Drawing from the compassion of Kuan Yin, the Chinese Buddhists abstain from killing animals for food. There remained, however, the longing for the taste and texture of meat. That problem was resolved by Chinese cooks who perfected the imitation of pork, poultry, and fish, using various forms of tofu and wheat gluten. The vegetarian roast duck is as crispy and fat as the best Peking duck. The skin of fish is created with seaweed, and the center is white and flaky, just like the flesh of the freshest fish. Every dish is as much a work of art as it is delicious.


| | |
| --- | --- |
| | |
| www.fotocommunity.de | |
| | |
Chinatown is perhaps the least changed of any district in Bangkok, and the only one to have retained its charm for us. Everywhere else, the streets are lined with skyscrapers and darkened by the skytrain overhead. Gone are the sprawling markets where shoppers and shopkeepers exchanged neighborhood news as they quibbled and bargained over daily necessities. In their place have risen towering malls, filled with expensive boutiques--Hermes, Nike, Vogue, Swarovski, Titan, and Louis Vuitton. Wandering through these temples of Mammon, one cannot help but wonder who buys all this stuff! The most horrifying mall we visited was Terminal 21, on the corner of Soi Asoke 21 and Sukhumvit. This behemoth is divided into areas labeled Paris, London, and Tokyo. Each area seems to display a directory only for its own shops. Searching for any particular item is impossible. One wanders amid specialty shops arranged randomly on at least five levels. Even the exit to the skytrain is not obvious. How many unwary shoppers have gotten lost there and are still wandering around, unable to escape?



When we mentioned to Shawna that we would be going to Bangkok in November, she exclaimed that she might be able to be there, too. How delightful! As it turned out, the husband (an Indian-American professor in the US) of one of her co-workers (Indian-American architect in Japan) had a conference in Bangkok at exactly that time. Shawna and her friend arrived the same day as we did, and the couple were able to spend their wedding anniversary together. How serendipitous! The five of us had fun one day shopping, having lunch at Himali Cha Cha, and visiting Julie, where both she and Shawna ordered clothes. Shawna also commissioned drapes and a sofa cover of gorgeous fabric which would have cost four arms and three legs in Japan.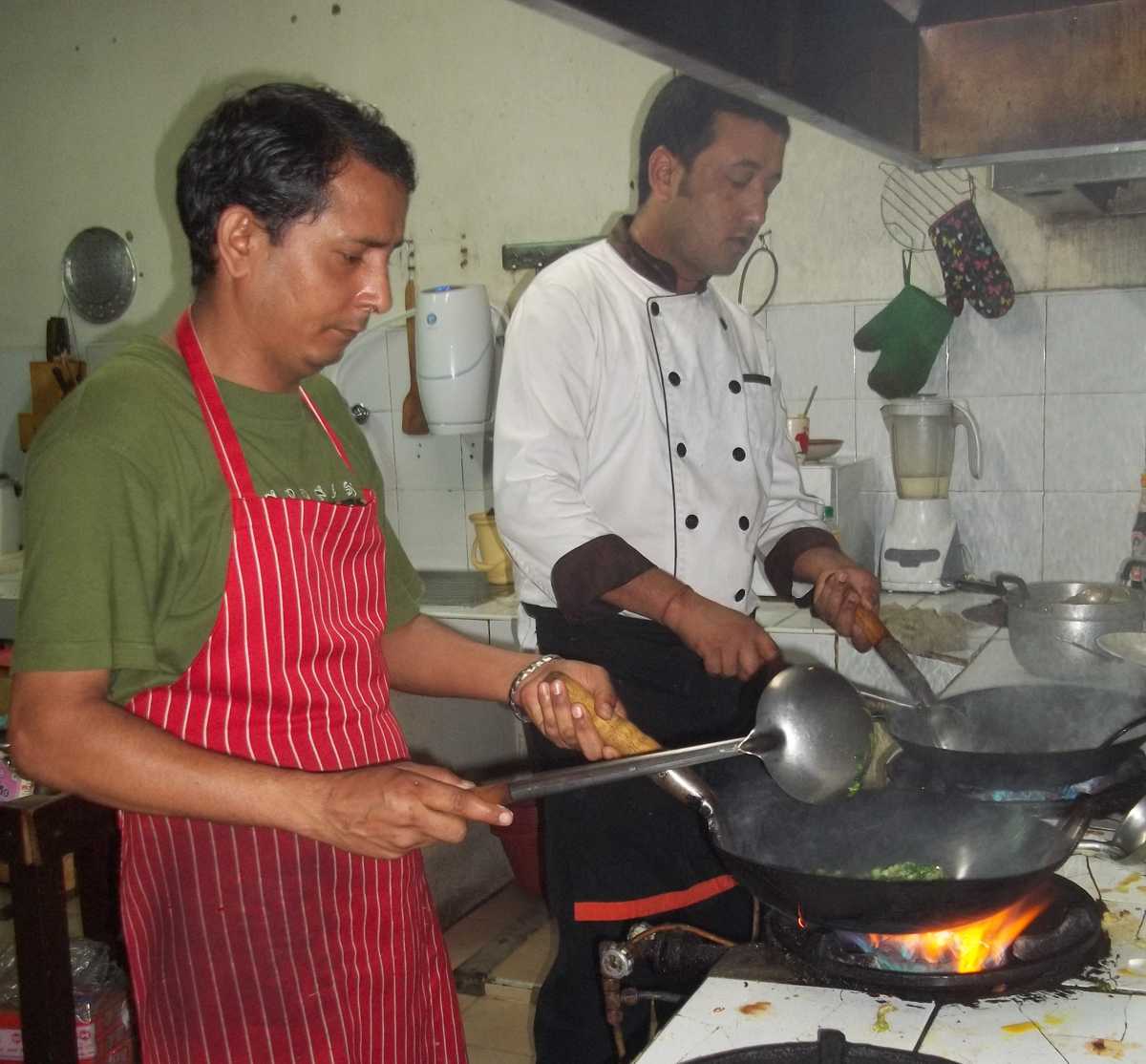 The first four nights, we stayed at the Hilton Doubletree (Hilton HHonor Points), appreciating a lavish buffet breakfast with cappuccino and a chance to swim in the afternoon. The hotel was fully booked, mainly Chinese tourists, when we shifted to our favorite place in Bangkok, Himalaya Residence, the guest house/restaurant where Shawna was staying. This is owned and managed by our old friend Assajita, whom we have known for more than thirty years, ever since he was a novice at Wat Sraket, one of the first Nepalese novices to study in Bangkok. After higher ordination, he continued his education and finished his master's degree. His Thai is perfect, and, after he left the monastery, he worked for Matichon, the most respected newspaper in Thailand. Finally, about ten years ago, he was able to realize his dream of creating a Nepalese haven in Bangkok. Most of the staff are Nepalese, many from Burma, all legally documented. Many of the guests are also Nepalese visiting on vacation or business. Assajita's family runs Sanu House, a home-stay in Patan, Kathmandu, and many Thais and Japanese frequent both establishments. The food at Himalya Restaurant is as delicious as it is exotic. The menu includes dishes from Nepal, India, Bhutan, and Tibet, and all are wonderfully authentic. It is easy to understand why the restaurant hosts so many parties for groups, including those from the Nepalese Embassy.


| | |
| --- | --- |
| | |
| Click the photo to enlarge | |
| | |
A bit weary of eggs, we asked the first night whether we could have rice porridge for breakfast, and the cook readily agreed. We expected the usual Thai "khao-thom," thin rice gruel with pickled vegetables and peanuts. The next morning, however, we were served a substantial bowl of steaming rice porridge, as thick as oatmeal, but delicately seasoned with Himalayan herbs, and vastly superior to that American standby. We enjoyed that dish every morning, but we learned that it had never been served before because no one had asked for it.



The rooms at Himalaya Residence are not as posh as a five-star hotel's, but they are very clean and exceptionally large. With a refrigerator, free wi-fi, and satellite TV, what more could you want? We particularly appreciated the hardwood floors with space for walking meditation.



For her last night in Bangkok, Shawna had reserved an upscale hotel recommended by a friend, which happened to be near Julie and the Modern Optical,* both of which she had to visit on her last day. We spent several hours at that hotel, being amused by the atmosphere and the clientele. We didn't know how to describe the scene, but Shawna provided the word--hipster. The hotel's claim to fame is that it was the locale for the film, "The Hangover, Part 2." The hotel bar even has the unsavory name, The Hangover! The pool was oddly-shaped--not really for swimming, with dining tables right on the poolside, and inaccessible steps descending into the water. At least half of the guests, women included, sported tattoos on all exposed parts of their bodies. When one tattooed blond guy--the spitting image of Jesus--passed us and stepped toward the pool, we briefly wondered whether he would walk upon the water, but he sank.



Leaving the hotel was an experience in itself. The entrance is on a higher level, about two hundred feet from the main street, so we asked one of the three doormen to call a taxi. He readily agreed and suggested we wait inside. A few minutes later a taxi arrived, but the driver was unwilling to go where we wanted, so he drove off empty. We waited about half an hour and decided to walk out to the street. A few steps down the drive and another taxi arrived. We stopped him, learned that he was indeed responding to the doorman's call, and got in. Very good, we thought. Well, the exit from the hotel is in the back. It opens onto a narrow soi. It took us fifteen minutes to inch our way into the alley. It was another fifteen minutes getting from the alley to the main street, past office workers, sales people, working people, eating, drinking, and chatting on the sidewalk oblivious to the traffic crawling beside them. It was so slow, the cost of the ride back to Himalaya Residence was more than double what it should have been. What would traffic be, we wondered, without the skytrain? Not to be considered!


| | |
| --- | --- |
| | |
| Click the photo to enlarge | |
| | |
No sooner had Shawna departed for Japan than David arrived. Actually, we had timed our visit to make sure that we saw him in Bangkok. He was coming from Canada, where he'd been in hospital and had later resided in a Khmer Krom temple. After retiring from teaching English at University of Maryland in Germany, David taught for many years at Chulalongkorn University in Bangkok. His website has alot of interesting material. It was wonderful sitting at Himalaya Residence with him and his friend and former student, Ei, discussing the Dhamma and sipping the best masala tea in Thailand.


For our last two nights in Bangkok, we moved to the Millennium (again Hilton HHonor points). The buffet breakfast there is even more sumptuous than at Doubletree, and there is unlimited cappuccino all day in the executive lounge, not to mention all-day snacks, afternoon high-tea, and a before-dinner buffet, which is sufficient as an evening meal. On the other hand, the pool is big enough for only two bathers at one time, though "The Beach," where it is located on the fourth floor, has deck chairs, couches, and beds for at least one hundred loungers.


This was our first experience seeing people taking selfies. Everywhere! In the hotel pools, in the lobby, in the executive lounge, in the road, on the sidewalk, going by in a tuk-tuk! Nobody seemed to take a picture of what they were seeing or of friends they were with. Some even had poles, one-foot to six-feet long, so they could hold their telephone at a distance to click the shutter. Weird. Definitely weird.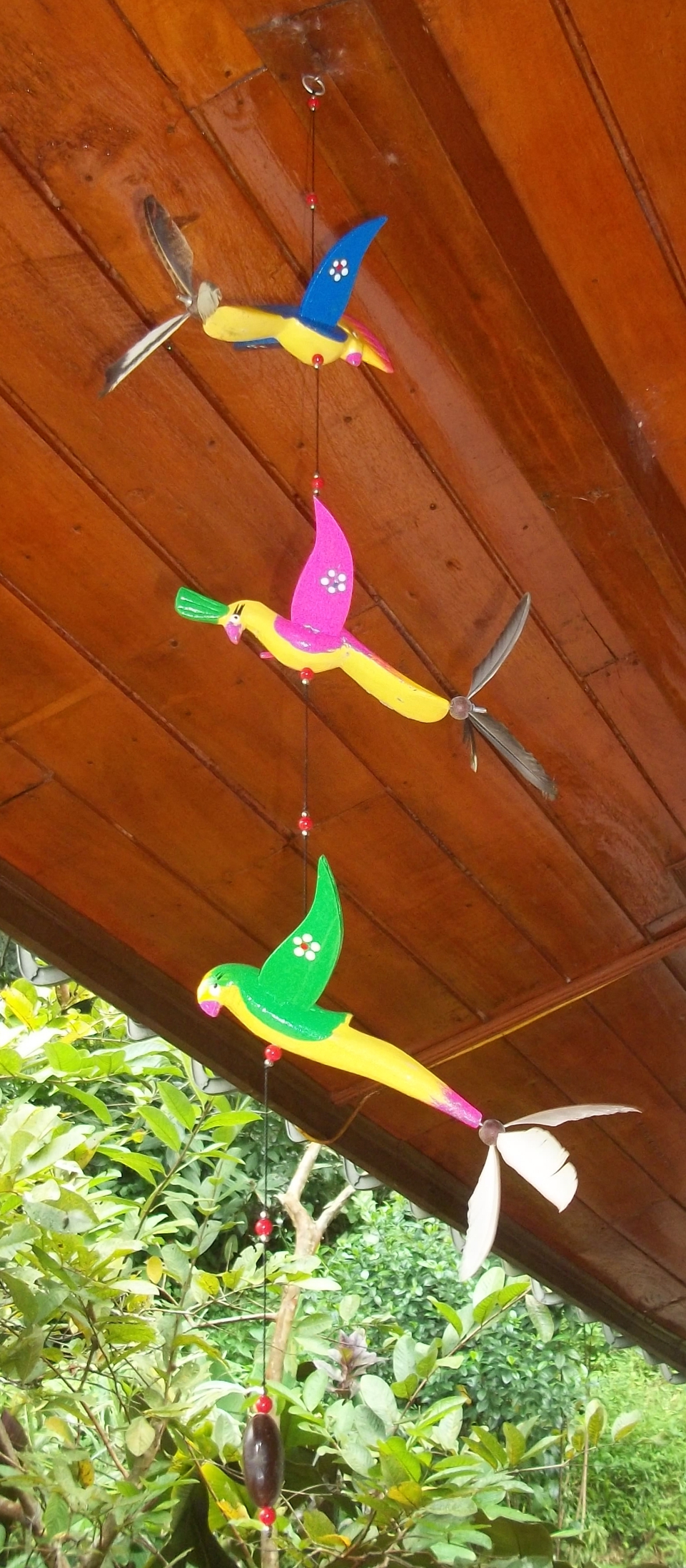 Every year, on one of our Sundays in Bangkok, we hope to go with Julie, Moon, and her husband to a temple and we were not disappointed this year. We spent a wonderful few hours together at Wat Tamai in Samut Sakhon, a delightful temple, popular with celebrities, whose photos are prominently displayed around the entrance. The compound is divided into various sections, each catering to a different kind of devotee. We were not able to enter the main hall, which was under renovation, but to one side was an ornate Chinese shrine with a towering image of Kuan Yin in the center. Along the walls were smaller images of arahats and ascetics. In front of a display hall was a fountain around which were arranged the twelve animals of the Chinese zodiac. Cheerful worshipers were dipping water and pouring it over the animal of the year in which they were born. Toward the rear and under a leafy arbor were set out tables and chairs where anyone could sit for contemplation while sipping tea or iced coffee. Nearby a monk was teaching to a very attentive group, all dressed in white. In the giftshop, we found a lovely brass wind chime for Mike's Sanatha Suwaya and a darling mobile of three carved and painted wooden birds--a hornbill, a peacock, and a parrot--each with a tail of three real feathers which spin in the breeze. We also purchased an unusual votive plaque, which sits on our altar. We concluded our afternoon with a delicious lunch in another Chinese vegetarian restaurant, not far from the Millennium.


Click any of these photos to see more photos of Wat Tamai
The next day, as we were having breakfast, Valerie appeared, looking chipper, in spite of the jetlag she must have been suffering. We hadn't met her for about ten years and were delighted that we would be in Bangkok together. She had just wound up her business in the United States and was preparing to relocate to Thailand to be closer to the family of girls she has adopted. This was to be an exploratory trip, and it seems to be turning out very successfully. Not only did she meet the girls and help to get them settled, but she found a very good job to move into when she returns after the year-end holidays. For many years, Valerie has been involved with refugee relief on the Thai/Burma border. Working closely with Weaving for Women, Daisly's project in Sangkhlaburi, Valerie has raised thousands of dollars for an orphanage run by Karen monks. She is also an accomplished photographer and filmmaker


Click the photo to enlarge

"A friend is one who goes seven steps to help. He who goes twelve can be called a comrade. Loyalty for a fortnight or a month makes one a relative; long and steady dependability, a second self." --Kalakanni Jataka
Later that morning, two more old friends came to the hotel. It was about twenty years ago that Jason first visited us in Kashihara, explaining that he was a friend of Valerie and was interested in helping the Burmese in Thailand. We recommended that he contact Pippa in Chiang Mai. He did, and she introduced him to The Irrawaddy, where he worked for many years. We kept in touch and met a few times--both in Sri Lanka and in Thailand. He has recently left the newspaper and is settling in Chon Buri, with the family of his wife, Eid. This was the first time for Jason and Valerie to intersect since they both stopped teaching in Shikoku. It was a delightful reunion, talking over old times and plans and eating Bhel Puri, Lily's fried peanuts, raisins, and apricots!


Seventh Indian Intensive Buddhist English Course
March 14 - April 14, 2015

Buddhist Relief Misison is planning to conduct this course at Bodhisukha Monastery in Kolkata, but the staff is not yet fixed. Teachers are welcome. Classes will be held Monday-Friday. Lunches are prepared in the monastery kitchen. Accomodation for teachers is provided. An short excursion to BuddhaGaya or Shanti Niketan can be arranged.
Most of the students will be Burmese monks studying at universities in India. The students are extremely eager to learn, and teaching them is a truly rewarding experience. If you are interested in volunteeering to teach in the course, even for a part, if not the full term, click the photo for more information. All friends are invited to take part in this meritorious work by donating toward lunches and material.

Click to read about previous courses: 2006 2007 2008 2011 2012 2013

Lunch for one day costs about US$100.
Our trip to Bangkok was also business. We carried two suitcases of books and were able to place them in bookstores. AsiaBooks bought 21 sets of Jataka Tales to replenish their stock, and MahaMakut Booshop, connected to Wat Bovorn, accepted ten copies of Jataka and four of A Pilgrim's Companion. We are always happy to see these books get wider readership.


While we were in Banglampoo, Ken zipped across the street from the bookstore to the temple to snap a new photo of the plaques of Sun Wuong, the Monkey King in Journey to the West. We remembered these delightful representations around the Golden Pagoda from the days we spent there long ago, but we could not find our old photos. We needed one for our book of crossword puzzles, which, we are happy to announce has been finished! The manuscript has been submitted for publication as a printed book, and we are converting all fifty-two puzzles for an interactive CD as well.
Lily went to the airport to meet Josh, who arrived early in December. She shopped for woven mats (for the hut on the hill) and cashews on the way down. Josh has been staying with us on his return home to Flint from Indonesia, where he taught ESL at a university for ten months. He's reconnecting with the monks and nuns who remember him from the 2013 Intensive course. We're enjoying having him here, and so is Nezumi, who loves the attention!


Click either photo to enlarge
_______

* We must admit to patronizing one of the smaller malls, CP Tower on Silom Road. Twenty years ago, we began buying glasses at Modern Optical on Sukhumvit Soi 5. Year after year, the two women who worked there regularly donated their children's used clothes to the Burmese refugees. A few years ago, that block was torn down to erect a supermall, and the two clerks moved to Silom. We followed them, even taking both David and Shawna when they needed spectacles. One of the women has since retired, but the other, Da, is still there. Her daughter is now grown up and works for an airline. Next month, she is taking her parents for a holiday in Japan to see snow..