Brace Yourselves, March 11, 2008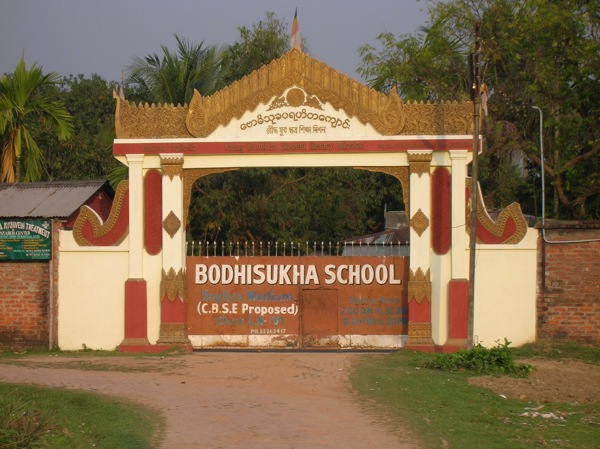 Well, we're in Kolkata. We were scheduled to leave Sri Lanka on January 31, but, the week before that, Ken developed a fever. Remembering the experience with the hospital last year, we immediately decided to postpone our departure. Of course, that meant missing out on the opening of the Shan temple in BuddhaGaya, but it couldn't be helped. A course of antibiotics quickly conquered the fever, but he was puzzled that a pain in the hip, which had arisen at exactly the same time, was not going away. After several more visits, the doctor diagnosed it as a spasm and recommended indomecithin capsules accompanied by some tablets to protect the stomach. We know that indomecithin is an old medication, no longer protected by patents, but we were, nonetheless, shocked that two weeks' worth of the two medicines was only 75 cents!

Let us go back for a moment and tell you about our year end. About Christmas, Bruce arrived from Osaka and Shawna arrived from Chicago. They were both exhausted from the busy schedules they had been following, but, after a few days of what Bruce dubbed "Srihab," they were both fine. They had never met each,other, but they hit it off really well, and enjoyed running around Kandy together while we old folks worked. Nevertheless, we spent many happy hours with them and thoroughly enjoyed their visits. Both of them were beguiled by Lily's delectable cooking and spent a good deal of time in the kitchen learning her secrets.

Photos of their visit to Sri Lanka
After Bruce left, we took Shawna and Lily to the Cultural Triangle. (Bruce had gone there several years ago.) Lily had been to the MahaBodhi tree, but everything else was new. It was a delightfully peaceful trip, and the ever competent Chanda took good care of us at every point. We were especially happy to have lots of time to meditate at the magnificent reclining image at Gal Vihare.

Click the photo for all the photos of our trip to the Cultural Triangle.
Having Bruce and Shawna visit was a great treat for us. We enjoy good company, and our house and life in Kandy are eminently shareable!

Although Ken was feeling lots of pain, the decision to postpone our flight was the right decision, and the extra two weeks in Kandy were a good idea. We finished our book! That's right! The manuscript of Jataka Tales of the Buddha, that we have been working on, lo, these many years, has been given to the publisher, which is, of course, Buddhist Publication Society. With the extra time, we were able not only to polish the text of the 216 stories we'd chosen to retell, but also to finish the appendices and, more importantly, to meet frequently with the artist and to explain the contents of all the illustrations. He was commissioned to do one illustration for each story. He speaks no English, so all the explanations and negotiations had to be translated by our dear friend and neighbor, Charles. He certainly did yeoman's service, and all the illustrations are also done! Overjoyed that the work is at last finished, we left Kandy with much lighter hearts. (More on the illustrations later.)

We finally flew to Kolkata on February 16. Fortunately, Jet Airways assured us that forty-five minutes was enough time to make the connecting flight, and we did not have to stay overnight in Chennai. Actually, the Jet staff took great care of us, and the entire trip, including customs, was easy, though not "painless."

Susan Klimist, Co-director of Burmese Relief Center--USA, had come to India for the opening of the Shan temple and arrived back in Kolkata on the 18th. She and Rajiv had gone to New Delhi to visit a free clinic, run by some Burmese doctors and staffed by Chin refugees. We had a lovely day with her and Rosalie, who runs Empower the Children, her own NGO, assisting handicapped children in Kolkata.

Above: Rosalie in Kandy

Left: Susan at Bodhisukha
As soon as all this excitement died down, Ken decided to go to Apollo Hospital to see the specialist he had not had the time to see in Kandy. The neurosurgeon immediately ordered an MRI, which cost all of 80 dollars. (Three visits to the doctor were free.) The diagnosis was a compressed nerve, the result of an old injury, reawakened by a recent trauma. Both Ken and Visakha remembered exactly when the original damage had occurred. Ken had lifted Visakha's mother out of the car one day and grimaced with pain. The pain went away after a couple of days, so he thought little more about it at that time, although he did suffer occasional twinges several years later, but never anything as severe as this. It seems that old age is catching up with him.

On the third visit, when Ken reported that the medication was having no effect, he was referred to a spinal surgeon in the same hospital, but whose office is in the new "Daycare Center." That's Inglish for "Outpatient Department." This doctor looked at the MRI and ordered two kinds of physical therapy, short-wave diathermy and interferential therapy. Ken was considering returning to Apollo every day (price of gas about 12 dollars per trip), when Rajiv's friend, Abhijit, discovered that both kinds of treatment were available in Barasat, near Bodhisukha. Even before we got back from the hospital, Abhijit informed us that the physical therapist would visit the monastery twice daily for 10 dollars a day!

Ken started therapy the next day. Both kinds of treatment are done with electricity, SWD feels like a heating pad on the back, but the electrodes are sending magnetic waves at controlled frequencies into the body, which produce the heat. (Today, the therapist demonstrated that the magnetic waves emanating from the electrodes are strong enough to light a small fluorescent tube lying on the pads!) For IFT, electrodes are attached directly to the back and send shocks of controlled but increasing intensity into the spine. After a week of treatment, Ken is experiencing remarkably less pain. At the therapist's suggestion, he went to the local hospital in Barasat. The orthopedic surgeon he saw immediately ordered an x-ray (8 dollars), as a much better diagnostic tool, and the slipped disk, about which the other two surgeons had only surmised from looking at the MRI, was very clear. This surgeon also extended the therapy from ten days to three weeks,

Ken realized when the latest trauma had occurred. The artist had drawn Mahakapi Jataka, in which the monkey king ties a vine around his waist, jumps back across the river, and hangs onto a branch of the mango tree, allowing the other monkeys to use his body as a bridge to escape from danger. The way the monkey was hanging was not right, so Ken held onto the back of the sofa, propped his legs on a chair, and hung there for a few seconds. The artist understood, but Ken felt the awkwardness of his posture, and the next day,

The doctor also ordered Ken fitted for a lumbar brace, much stronger than the belt the therapist had suggested. It seems that he may need the brace for up to six months but, if it means he can function, that's fine.

While Ken was getting his back straightened out, Visakha kept plugging away at getting ready for our classes. Suddenly, she developed a recurring fever, headache, and listlessness. After a blood test (for which she had to beat the doctor over the head) establishing that it was not viral or malarial, she started her course of antibiotics (bless that Levaquin!), and bounced back. After a miserable week, she rejoined the living and is doing fine.

Our classes begin shortly.

Please excuse our long silence, and write us when you have time.

With metta, Visakha and Ken